Adopting a Private Sector-led Approach to Advance Digital Startups in Cambodia
Years of working side-by-side with Cambodians in the civic technology sector taught us many things about the country's startup scene. Its denizens are smart and passionate about their work. Many have their finger on the pulse of what communities want and need. So, what's missing? Why aren't there more internationally known Cambodian tech firms and startups such as Codingate and Joonaak?
The answer is that firms in Cambodia often lack support during their growth stage and struggle to rise out of the startup phase to become vibrant, growing businesses. Strengthening the entrepreneurship ecosystem in Cambodia is critical to enable these startups to grow into job- and wealth-creating businesses.
According to 2018 research from Raintree and Mekong Strategic Partners, there are now roughly 300 startups in Cambodia. As documented in recent reports, "What was once a relatively quiet ecosystem has really burst into life in the last few years." But wide gaps still exist between promising startups and the investments that will facilitate their growth.
The DAI-led Development Innovations (DI) project, funded by the U.S. Agency for International Development (USAID), highlighted this gap in a 2018 report on the sector: "Startups are not widely ready for investments. The majority of startups are [stuck] in pre-seed or seed stage." DI's goal was to boost civil society's access to and use of tools such as mobile technologies, the Internet, and social media. But that objective is incomplete—and unsustainable—if tech firms can't survive beyond the early stages.
We knew support for growth-stage startups would fill a key gap in Cambodia's startup ecosystem. We knew we needed a new model.
Bring in the Private Sector
Engaging the private sector was critical in finding a solution based on the market and leading towards self-reliance or sustainability. Through a call for proposals in June 2018 targeting venture capital firms interested in supporting Cambodian startups to become investment-ready, DI partnered with an investment and advisory services firm called Mekong Strategic Partners (MSP). MSP, and its partner Seedstars, with its proven investment readiness program for startups, worked with DI to design and manage an accelerator based on its expertise in the financial and startup services sector in Cambodia and the greater Mekong region.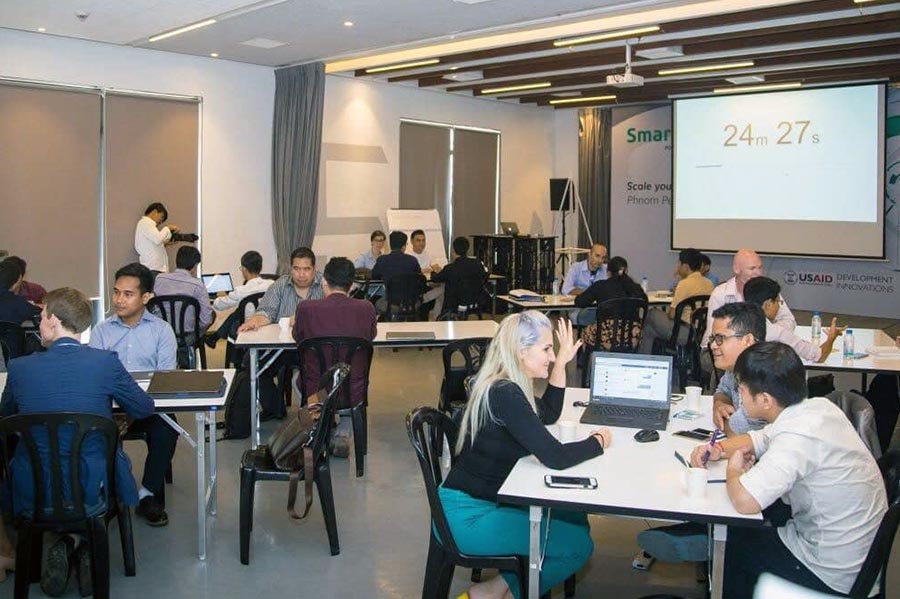 SmartScale teams attended weekly bootcamps with industry mentors from across the globe. Photo courtesy: Smart Axiata.
Simultaneously, Smart Axiata—a major mobile network operator in Cambodia and a long-time DI partner—signed on as a co-sponsor to this investor-led accelerator to support the growing ecosystem and help build a pipeline of investible businesses for the Smart Axiata Digital Innovations Fund, a $5 million venture capital fund managed by MSP.
The resulting SmartScale, powered by Seedstars accelerator, kicked off in April 2019. For the intensive three-month program, MSP and Seedstars selected 11 businesses, all of which had a product or products at the "minimum viable product" stage or better. These businesses—four of which are led by women—came from a range of sectors, including logistics, healthcare, ecotourism, and job placement services. Two of the startups were previous DI grantees—and one of those was designed with funds received from another USAID-funded project, bringing donor-funded businesses even closer to sustainability.
Over the three months, each startup completed three bootcamps and several training sessions on topics such as lean startup principles, market validation, key performance indicators and experimentation, and customer activation and retention. Each learned conceptual and practical skills from local and international mentors and validated that their products or services are using sound, market-led principles.
The accelerator culminated in a final demo day in July, where each company pitched in front of 100 members of the public, government representatives, local investors, and venture capital investors from Cambodia, Singapore, and Thailand.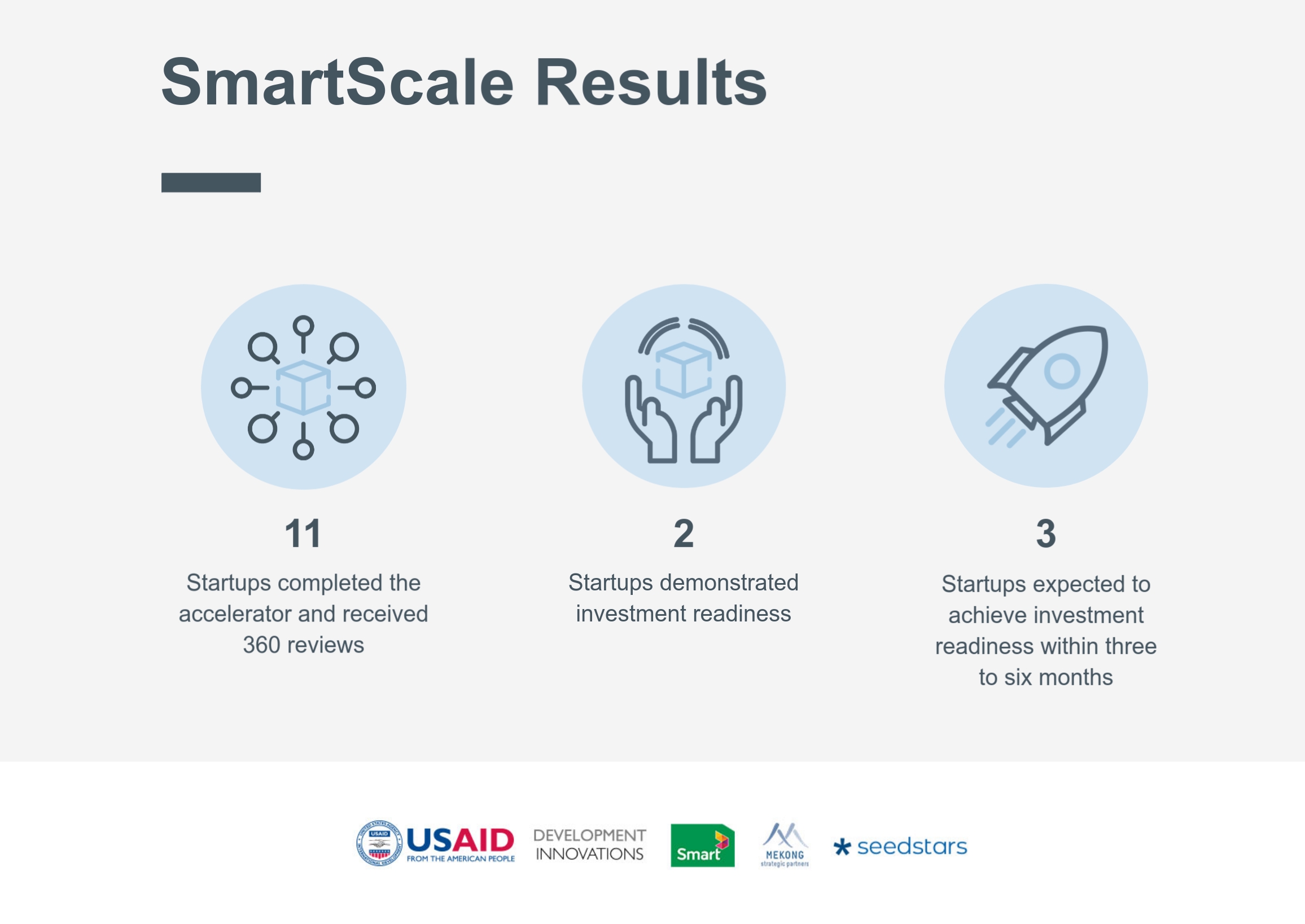 What Did We Achieve?
Two of the 11 startups demonstrated true investment readiness and are now in the due diligence phase with venture capital firms for potential funding. Three other startups are expected to reach investment readiness within three to six months and then enter the due diligence phase. Four more reported making connections with investors at the final demo day, which could lead to future investment discussions or business plan reviews, while others reported validating—or radically changing—their business models as a result of the accelerator.
This investor-led approach filled a gap within the market system to support entrepreneurs to grow their businesses and attract investment funds. With this design, Cambodian businesses demonstrated their potential to attract local and international venture capital. Private and public funding options are readily available for accelerator or mentorship programs that get results for startups, or entrepreneurs in general. Engaging the private sector to ground these accelerators in the realities of the market amplifies the impact of donor funding and works toward market-led self-reliance.
Kate Heuisler was Chief of Party of Cambodia DI.
Editor's Note: The DI project ultimately delivered 91 technology solutions that reached 1.6 million Cambodians. Watch the video to learn more about the project's impact over six years: