Commercializing Agricultural Innovations in the Age of COVID-19
As the coronavirus pandemic stretches on, Sub-Saharan African countries have been gradually reopening thanks to largely successful efforts to combat the spread of the virus. Though scientists don't fully understand why the continent has had low incidence and fatality rates compared to the rest of the world, most agree that quick action on the part of governments to enact social distancing restrictions has been a key factor. Unfortunately, as in the rest of the world, these social distancing and lockdown measures have also led to challenges for the private sector, particularly for small- and medium-sized enterprises (SMEs). Though many SMEs have contracted or closed, some have succeeded by adapting their business models to the current environment and taking advantage of new commercial opportunities.
For the agritech startups in the Kosmos Innovation Center in Ghana, adaptation has meant different things to different companies—including pivoting to new markets, products, marketing channels, and operational processes. KIC, led by Kosmos Energy with support from DAI, has worked closely with the startups during the pandemic to set up collaborations, promote safe operations, and share learning through capacity building programs and "fireside chats" with the local entrepreneurship community.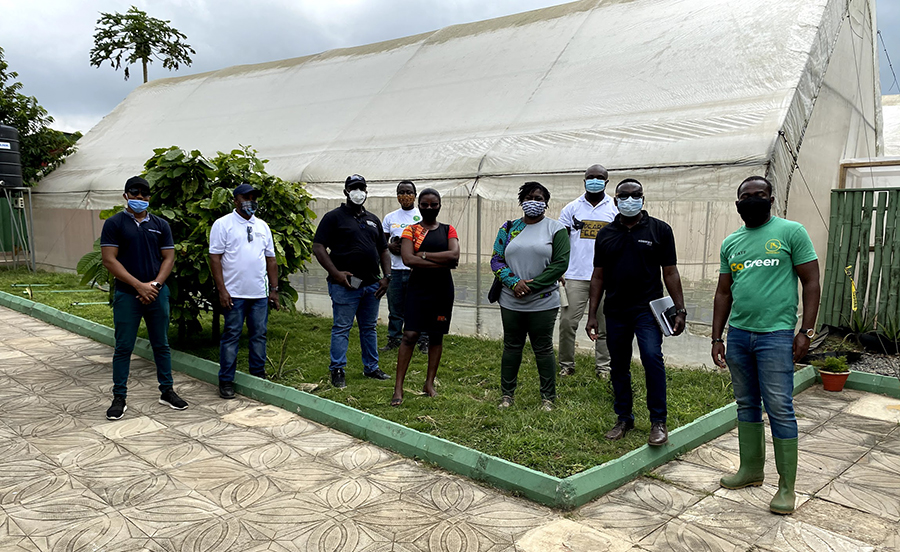 The KIC team visits TechShelta to inspect safety protocols. Photo courtesy of KIC.
Localizing to Minimize Supply Chain Disruptions
Supply chain disruptions are among the most significant challenges these firms face, leading to higher costs and delays in product development and deployment, especially for companies relying on imported goods. In Ghana, importation has been the norm for tech companies that require hardware components and other specialized equipment. COVID-19 is forcing companies to rethink their production models.
One company, ProSect Feed, shifted to fabricating low-tech equipment locally when importing from China and Japan was no longer viable. Working in collaboration with Ghana's Council for Scientific and Industrial Research, ProSect had developed an organic, insect-based poultry feed that reduces farmers' feed costs by 23 percent and could significantly increase the competitiveness of the national poultry industry if implemented at scale. While ProSect had originally planned to import equipment such as shelving, fly cages, dark cages, and trays, it was ultimately able to fabricate them locally. These homegrown fixtures and fittings are less scalable than their imported alternatives, but they enabled the company to commence operations, hatch its first colony of flies, and sell its first feed concentrates.
KIC worked with ProSect and other companies that could continue local operations to develop safety protocols for working during the pandemic. AgroSourcing, for example, a company that recycles agricultural waste into fertilizer, was able to design its processing facility with 100 percent local materials and equipment. KIC worked with the firm to implement safety measures for building and operating its facility, and production began in early October.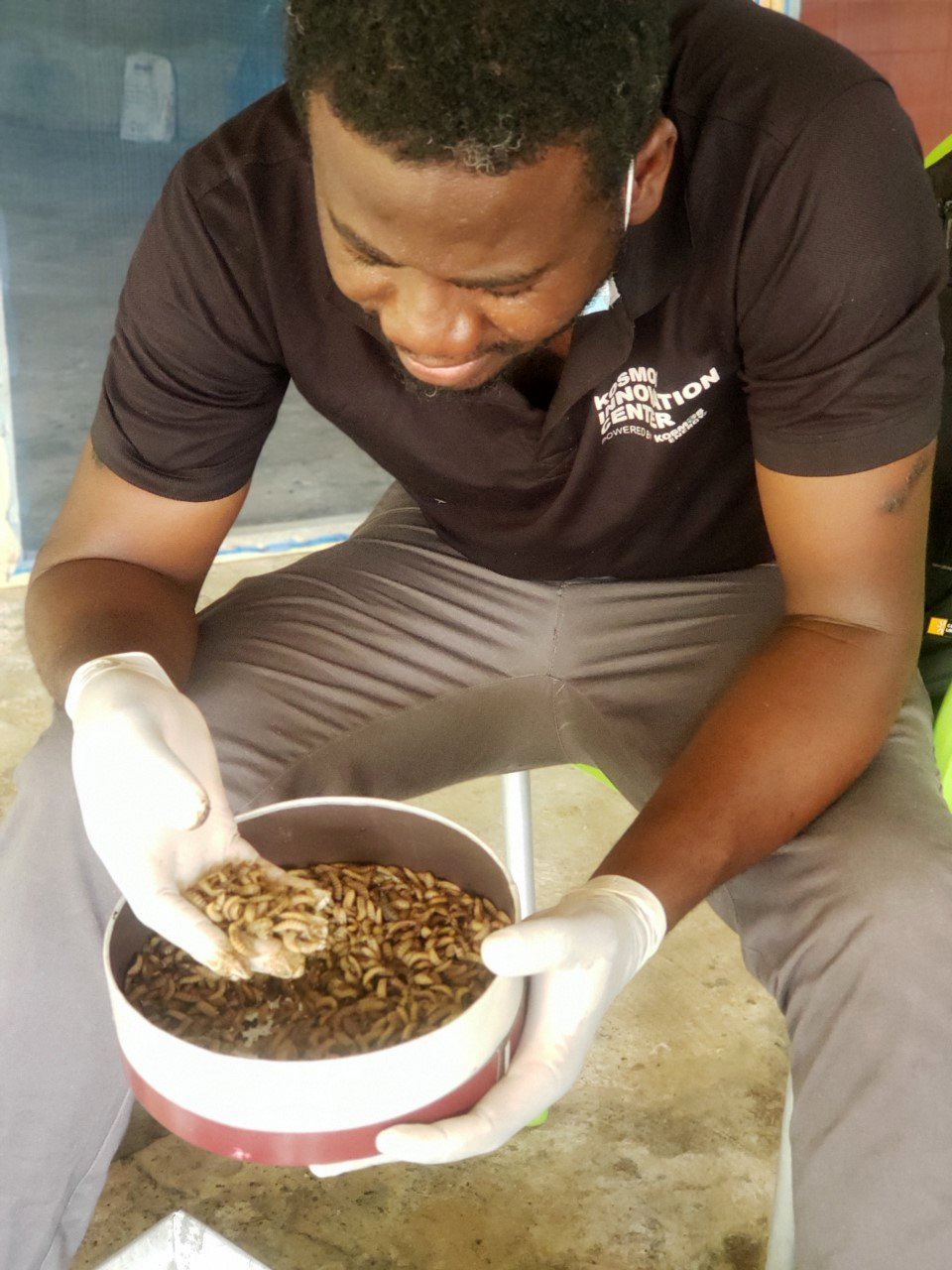 ProSect farms insects as a sustainable and affordable source of protein to feed poultry. Photo courtesy of ProSect.
New Spaces for Innovation
Agritech companies whose solutions rely on high-tech hardware found themselves particularly vulnerable in the wake of the pandemic. For example, aiScarecrow Technologies aims to help cereal farmers reduce crop losses to birds, using an IoT system of audio and visual pest deterrents. Its solution relied heavily on components imported from China, including sound sensors, a speaker system emitting distress and predator calls, lasers, a remote-controlled "ornithopter" that looks and flies like a real predator bird, and a humanoid quadcopter. Trials of the prototype reduced farmers' losses by up to 95 percent, but when it came time to go to production in early 2020, COVID-related shipping delays inflated the company's costs and customs duties.
To localize the fabrication of innovative products, Ghanaians are turning to maker spaces and fabrication labs such as Kumasi Hive and Design and Technology Institute (DTI), where entrepreneurs can design and build devices. While these facilities usually support prototyping rather than production at scale, aiScarecrow was able to adapt its production model to source low-tech parts from DTI and minimize reliance on imports.
"We did not prepare for anything like what we saw during the pandemic," said aiScarecrow CEO Silas Boateng. "We learned that in a developing country where almost everything is imported, your innovative improvisation is your savior in the era of COVID-19."
In addition to working with the local maker space, aiScarecrow spent the spring and summer engaging its customer pipeline—positioning the firm to get products in the field as soon as the government eased restrictions in the fall. Although the key tech components were imported, DTI's low-tech fabrications and KIC's advice on maintaining customer engagement and navigating a difficult period of financial uncertainty helped the company mobilize quickly when the time came.
Diversifying Customers and Riding the eCommerce Trend
Among KIC businesses, those concentrated in the business-to-business (B2B) market were the worst affected by the pandemic due to the massive downturn in Ghana's tourism, restaurant, and hospitality sectors. Many KIC companies looked to pivot to the consumer market, as the shrink in consumer spending was less severe, particularly for food purchases. However, companies still needed to find a sales channel to reach consumers during the lockdown.
Reflecting global trends, Ghanaian businesses have gone online. Ghana's eCommerce market, while more sophisticated than most countries in the region, is still in its nascent stages, but an estimated 38 percent of the population—approximately 11 million people—are internet users. Although this is a sizable potential market, bigger challenges lie in delivery logistics and the lack of familiarity with eCommerce among all but the youngest consumers.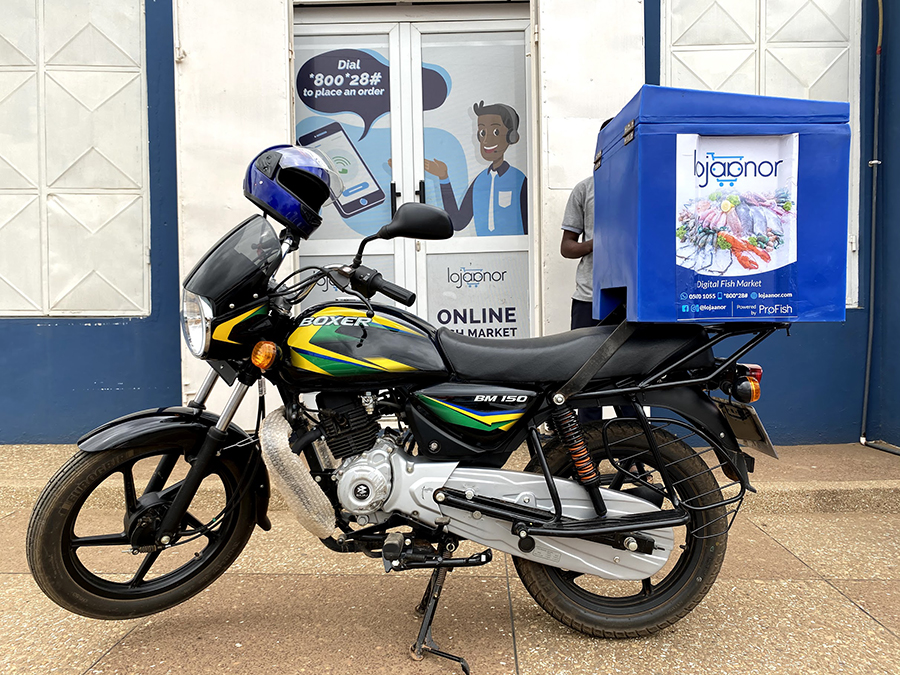 a ProFish motorbike, used to deliver food to local restaurants and retailers. Photo courtesy of ProFish.
ProFish, AgroInnova, and TechShelta—KIC companies that sell seafood, poultry, and greenhouse vegetables, respectively—all saw their B2B wholesale orders from restaurants, hotels, and other businesses drop to near zero at the beginning of the pandemic. At the same time, household orders increased, presenting both an opportunity and a logistical challenge given the higher volume, smaller orders, weak infrastructure, and uncertainties around safety protocols, especially during the earlier stages of the pandemic. The teams quickly adapted and put together a safety plan to take advantage of the opportunity, procuring personal protective equipment for all staff.
ProFish and AgroInnova formed a partnership to double down on the consumer market, increase delivery to doorsteps, and leverage their eCommerce and logistics platforms. AgroInnova increased its consumer customer base by 50 percent while ProFish saw a 200 percent increase in consumer sales.
Many predict the current rise in online transactions will boost eCommerce in Ghana permanently as people build trust and familiarity with these platforms. While it's too early to say if this will be the case, we have seen several KIC businesses successfully use eCommerce to access their newfound business-to-consumer markets.
For some companies, diversification meant going beyond new sales channels to making substantial changes in their product offerings. Growth Factor, whose business model focuses on invoice factoring for SMEs, made a strategic shift from facilitating pure microloans to also including distributor and merchant financing. This addition was necessary because consumers began to buy more in bulk from distributors, which brought with it the need for more financing among distributors and merchants.
Adjusting to the New Normal
COVID-19 has massively accelerated the pace of change in the business world and transformed strategic planning for startups and SMEs. Agritech companies have had to adapt quickly to fulfill their important role in maintaining and strengthening food security in Ghana—a key priority during a crisis that has disrupted activities all along the value chain. The lessons learned around supply chain localization and innovation, customer diversification, digital marketing, and operational safety will remain relevant as companies adjust to a longer-term "new normal."