Mainstreaming Climate-Smart Approaches at all Levels of Ethiopian Society
Adapting to climate change and building resilience to its harmful effects is especially important in countries where the population is highly vulnerable to the effects of global warming, such as Ethiopia. That's exactly what the GCCA+/Climate Smart Mainstreaming into the Productive Safety Net Program (Climate-Smart PSNP) has been focused on since 2018. The European Union (EU) project is mainstreaming climate-smart approaches at grassroots and institutional levels, thereby contributing to a sustainable change of practices to adapt to climate change, at all levels of Ethiopian society.
Ethiopia is the second-most populous state in Africa and the fastest-growing economy in the region. At the same time, it remains a least-developed country, according to the United Nations. While Ethiopia contributes relatively little to climate change—accounting for less than 0.1 percent of global emissions—Ethiopians are increasingly affected by extreme weather events such as drought, erratic rainfall, hailstorms, and floods, and by the spread of climate-related crop and livestock diseases propelled by the increase in temperatures and rainfall variability.
Building the nation's capacity for climate adaptation while also developing its green economy has been a priority for the Government of Ethiopia, resulting in the 2019 National Adaptation Plan. A key part of the government's effort is the multi-donor Productive Safety Net Programme (PSNP), launched in 2005 to integrate climate risks into various interventions, such as tackling food and livelihood insecurity through cash and food transfers and building sustainable, productivity-enhancing, public works.
Climate-smart approaches transform and reorient agricultural production systems and food value chains so that they support sustainable development and can ensure food security under climate change.
"The PSNP programme entails soil and water conservation activities, alongside roads and irrigation development' all within a participatory watershed planning framework and promotion of household-level livelihood micro-investments. Eight million people are benefitting through the public works and livelihood components as well as through the direct transfers of the programme," says Teriessa Jalleta, Programme Manager at the EU Delegation to Ethiopia. "PSNP also has a huge potential for addressing climate change impacts—which is why the Ethiopian government and the EU created the Climate-Smart PSNP."
Mainstreaming Climate-Smart Approaches
Climate-Smart PSNP builds on the recognition that climate change is a key driver of food insecurity as well as a threat to the effectiveness and sustainability of the PSNP. The project is designed to assist the government of Ethiopia to improve the resilience and adaptive capacity of the millions of Ethiopians who receive support under PSNP. DAI provides assistance to mainstream climate-smart approaches in three technical areas: planning and implementation, building capacity, and managing the body of knowledge. In the first two years, the project supported the roll-out of climate-smart approaches in 22 districts, locally called woredas. The Ministry of Agriculture has already begun to scale up this experience to more than half of all rural woredas in the country.
"The activities undertaken as part of the project are integrated into the work of the PSNP, from the Ministry to grassroots level, and build to a high extent on already existing or emerging tools and practices," says Team Leader John Riley. "This includes adopting practices such as climate-smart livelihood business planning and climate risk management in grassroots development planning."
Building on a Strong Foundation
"To start the project, we went through a stocktaking process to understand land use and climate-related issues, evaluate capacities in the field, and to document and map climate-smart practices and technologies already being used within the PSNP regions," Riley says.
In all the project identified 66 practices and technologies, catalogued in a database developed from 27 woredas. The database also holds information such as the specific vulnerabilities to climate change of the woredas.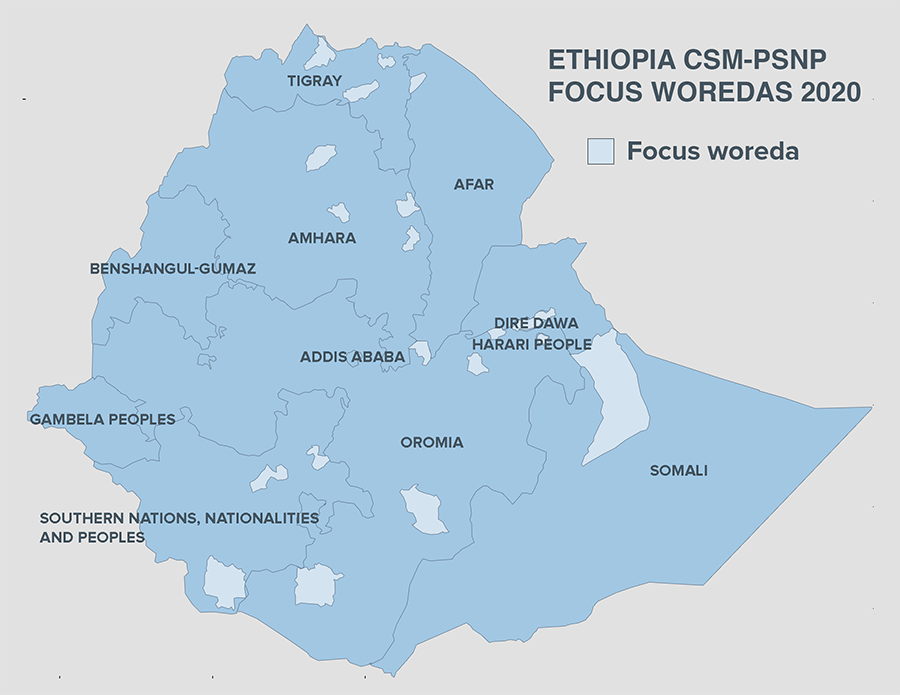 Among the findings of this stocktaking: agriculture extension agents in the communities implementing PSNP often lacked sufficient understanding of climate change vulnerability and adaptation. In response, the project developed training modules and a manual for frontline implementers that covers content such as basic climate science, climate policy, and climate impacts, particularly as these issues pertain to the agriculture sector.
"About 2,000 agriculture extension agents received training on the basics of climate change, climate risks, and how to mitigate them. In turn, these frontline workers help the members of their communities in their decision-making processes to better withstand climate risks and implement sustainable landscape management practices, in their requirements for public works and in their everyday lives," says Aklilu Mesfin Kidane, the Public Works Advisor under the project.
Revised Guidelines
As Ethiopia already had in place a substantial institutional framework for addressing climate change, the project focused on how that framework is integrated on the ground. An important part of that work entailed reviewing PSNP's manuals and guidelines. For example, the project helped revise the national watershed and rangeland development guidelines and piloted these revised guidelines in 22 woredas across a range of ecological areas.
"The revised guidelines promote climate-smart outcomes by including a climate-smart planning protocol," says Nesredin Rube, the project's Management Information System and Monitoring and Evaluation advisor.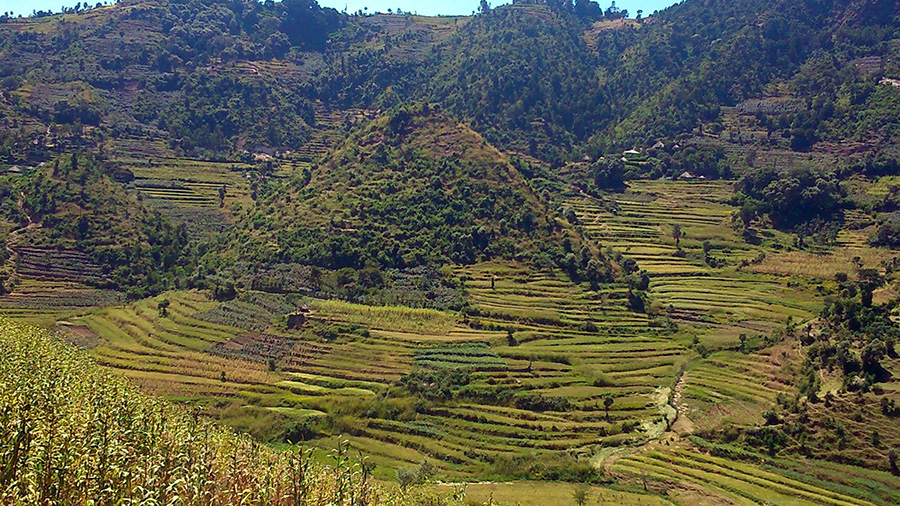 Bench terracing of watershed slopes in Adwa Woreda. Photo: PSNP/MOA.
Climate-Smart Business Planning
Another important aspect of the PSNP is the livelihood component, through which beneficiaries access microfinance or grants for on-farm enterprises. With Climate-Smart PSNP, climate-smart business planning is added to this component. "The climate-smart business planning is focused on income-generation activities, such as irrigated vegetables and fruits, cattle and small ruminants fattening," says Dagnew Menan Woldegiorgis, Livelihood Adviser on Climate-Smart PSNP.
With support from Climate-Smart PSNP, the Livelihoods Implementation Coordination Unit is incorporating climate risk analysis and planning for climate adaptive and resilient enterprises. Tailored to the client and context, the business planning training now includes methodology and tools for climate-smart value chains identification as well as individual enterprise climate risk analysis.
Digitizing Community Productive Assets
Another key achievement of the project is using geographic information system (GIS) mapping and codification to identify and delineate micro watersheds—first within the 22 woredas, then later the entire country. "This process creates a unique national code and standardised surface area planning unit that provides consistency across all development programmes related to natural resource planning and management in the Ministry of Agriculture," says Abebe Ejigu, a project GIS Expert. The coding system includes administrative location data as well as topographical and agro-environmental descriptors.
"It is part of building the implementation and monitoring capacity of PSNP to respond to climate change risks and opportunities," says Rube. "It is a complete shift from paper-based watershed management to digital management; it improves the quality of data, reporting, and measurement of the changes, such as climate-smart outcomes from the natural resource management and livelihoods interventions."
The newly delineated and codified watersheds allow planners to rapidly and systematically prepare base maps that include bio-physical assessment data, current land use data, land cover analysis, and other baseline information needed in development planning—thereby supporting M&E and informing decision making.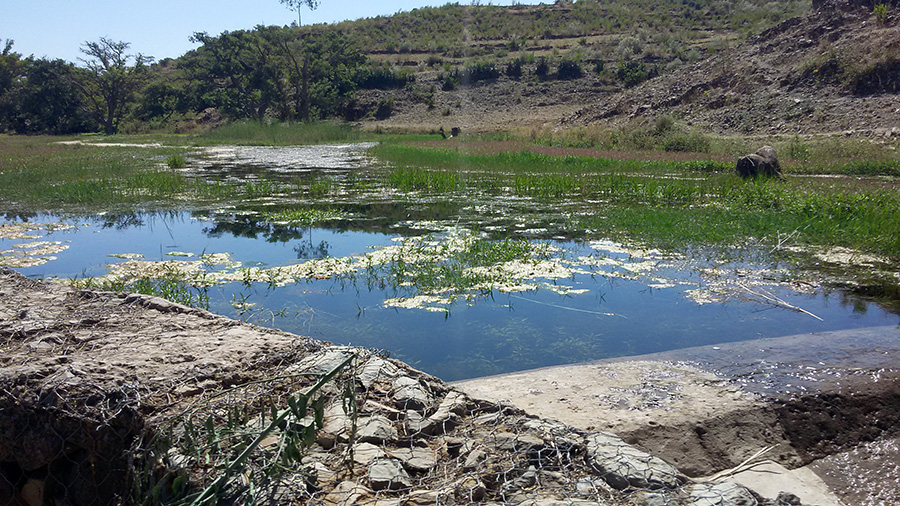 Dam for small-scale irrigation in Kolatembien Woreda. Photo: John Riley/CSM-PSNP.
The Way Forward
During its nearly three years of operation, Climate-Smart PSNP has identified opportunities and challenges, designed and revised strategies and guidelines, and developed a road map with the Ministry of Agriculture, allowing all parties to agree on a shared vision of how to mainstream climate-smart approaches in the PSNP.
"We are now testing and adjusting the manuals, the training modules, and the climate-smart planning process overall as well as communicating about our findings," Riley says. "It's important to remember that climate-smart mainstreaming is a long-term process. It is what the communities and the Ministry of Agriculture do after the catalyst provided by the project."
At present, a delegation headed by the Ethiopian Ministry of Agriculture and supported by the project team will be presenting PSNP's response to climate change at COP26 in Glasgow. The objective is to increase the visibility of PSNP as a climate change adaptation and mitigation programme and to leverage the broader climate finance institutions and stakeholders in view of securing investments to expand climate-smart public works and livelihoods actions in Ethiopia. The way forward is still long, but the path is clear and green.