Mobilizing the Haitian Diaspora to Invest "Back Home"
In Haiti, more than 60 percent of the population lives on less than $2 a day; in 2019, approximately 14 percent of Haitians were unemployed. Small and medium-sized enterprises (SMEs) struggle to access the capital they need to grow, create jobs, and offer valuable products and services.
"If you go to Haiti, you realize that one of the country's fundamental problems is the lack of employment. People want to work, but there exist few opportunities for them to do so," said finance expert Jean-Marc Cuvilly, who lived in Haiti until he moved to the United States for college. Cuvilly serves as the Platform Lead for Haiti INVEST, part of the U.S. Agency for International Development (USAID) INVEST project that assists Haiti's SMEs in accessing financing.
"To combat the lack of employment, you have to find a way to support small and medium businesses because they are the backbone of employment," said Cuvilly. "Unfortunately, it's an uphill battle to mobilize investment into any place that's facing instability."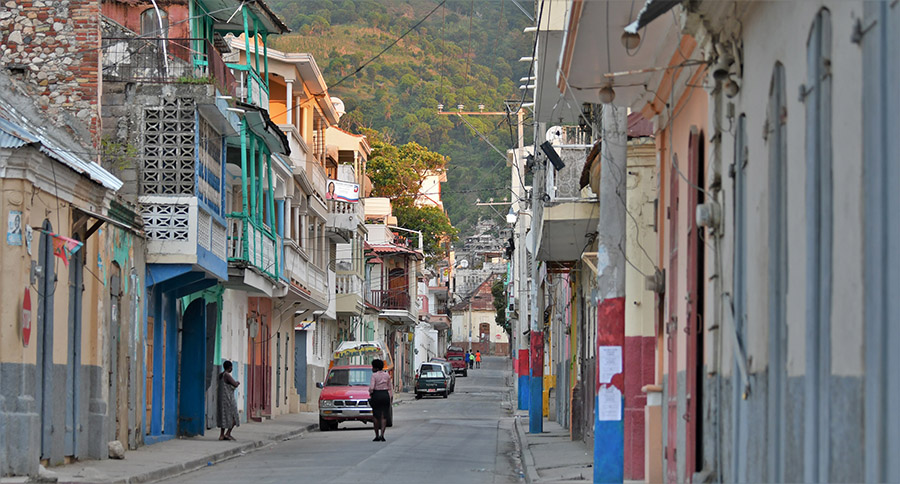 Street scene in Cap-Haïtien, a port city on the north coast of Haiti. Photo: DAI.
Locked Out
SMEs in Haiti face many challenges accessing capital. The scarcity of local private equity funds means the demand for equity capital exceeds supply. When it comes to debt, local banks are conservative because they operate in an environment with political, economic, and social risks. As a result, they charge high interest rates.
"When we launched Haiti INVEST and thought about encouraging investment into SMEs, we immediately concluded that we couldn't rely solely on in-country capital since it is so difficult to access, and that investment must also come from overseas," said Cuvilly. "One overseas group that we thought might be well-positioned to invest but was not yet engaged was the Haitian diaspora."
Some 2 million Haitians—a sixth of the country's population—live outside Haiti. Over the past decade, remittances from the diaspora have exceeded both foreign aid and international investment flows into the country. In 2019, remittances made up 38.5 percent of Haiti's GDP.
"This is a group that is highly motivated, well-educated, and successful," said Cuvilly. "So far, it has mostly engaged with Haiti's economy by sending remittances, but if only a small percentage of that money was used for investment rather than consumption of goods, it could make a real difference for the country's economic development."
Engaging the Diaspora
To tap the diaspora, Haiti INVEST hosted roadshows showcasing investment opportunities, with presentations from Haitian entrepreneurs and discussions with investment experts. INVEST issued a request for proposal (RFP) asking firms how they would organize such a roadshow, including their strategy for engaging the diaspora.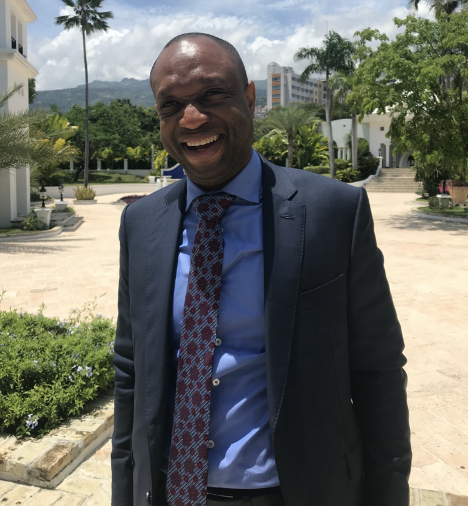 Guy-Max Delphin, CEO and Chief Investment Officer of Delphin Investments. Photo: Delphin Investments.
When Guy-Max Delphin, CEO of Delphin Investments, heard about the RFP, he knew his firm might be a perfect partner.
Born in Haiti, Delphin moved to the United States to study medicine but eventually turned to economics and landed a job on Wall Street. In the wake of the financial crisis, he launched Delphin Investments, based on the philosophy of protecting on the downside so that investors experience less volatility and receive better risk-adjusted returns over the long-term.
When the 2010 earthquake devastated Haiti, Delphin decided for the first time in seven years to go home. "I wanted to go and see how I could be helpful," he said. He and a friend started Quisqueya Capital Advisors (QCA), a Haitian firm focused on helping local companies become investment-ready.
Through this work, Delphin became more aware of USAID's presence in Haiti. And a few years later, when he learned about Haiti INVEST's RFP, he decided to respond through Delphin Investments, his U.S-based investment advisory firm. "When we read Delphin Investment's proposal, what came through was a deep understanding of the context and a technical approach that was grounded in real-life experience and expertise," said DAI's Katie Tilahun, Partner Manager for INVEST.
INVEST is part of a larger USAID strategy focused on enabling firms with niche expertise to work alongside USAID in creating market-based solutions to development challenges. INVEST makes government contracting easier, especially for small firms and those new to working with USAID, in part by simplifying the proposal procedure.
"If it hadn't been for the INVEST process, I probably wouldn't have applied," said Delphin. "It would have been too much because our firm would have had to weigh the chance of winning the award against the cost of doing all that paperwork ahead of time."
After an award is made, INVEST guides firms through the subcontracting process, helping them with the documentation needed to comply with USAID procedures.
On the Road
Haiti INVEST's roadshow consisted of events in Miami, Atlanta, New York, Boston, and Montreal. Each featured three to five entrepreneurs and attracted 30 to 50 people.
"The goal was not to have hundreds of people writing checks," said Cuvilly. "The purpose, rather, was to begin a long-term engagement with members of the diaspora, reinforce USAID's commitment to the Haitian economy, and build from there."
The impact of the roadshow was twofold, said Delphin. "First, it confirmed that the diaspora has an appetite for being involved in developing their native country," he says. "Second, we were able to debunk the myth that there aren't enough small businesses for investment in Haiti. We showcased a recycling company, a toilet paper manufacturer, a fintech company, a clean water business, middle-income housing developers, and more, all with smart, driven entrepreneurs who are craving for investors to look at them."
The roadshow also revealed that people would consider investing in Haiti beyond contributing remittances but at the moment lacked the mechanism to do so.
"Investing directly in a company is not practical nor realistic for most members of the diaspora," said Cuvilly. "We quickly realized the next step we needed to take was to facilitate the creation of a vehicle that might enable that investment."
A Pathway to Invest
INVEST released an RFP asking firms to suggest how they would structure such a vehicle. Delphin Investments proposed creating a pan-Caribbean fund, with allocations to countries across the region, including Haiti.
USAID is supporting the creation of this vehicle by funding the cost of setting it up and other logistics. The fund will provide a pathway for investment for those who remain interested in the region despite its challenges.
"We are an investment firm: our goal is to do well for our investors," says Delphin. "We are not an 'impact investing' firm. However, we are very conscious, and I like to ask how I can bring value to my investors while having some type of impact. This fund will create liquidity and awareness for the region in general."
Investing in SMEs Is Investing in Development
SMEs play an integral role in the development of a country. "Having a middle class elevates the standard of living of an entire country," said Delphin. "Any country that really wants to increase the standard of living for its population should work to grow SMEs. For me, that's why investing in SMEs is critical to helping Haiti and Haitians."
COVID-19 has made supporting SMEs even more crucial. "SMEs can get hit hard with external events such as the COVID-19 pandemic, relative to larger organizations. To survive these difficult times, they may need assistance, especially with additional financing," said Cuvilly. "However, being locally based in harder-to-reach communities, they are often also well-positioned to provide services during such times."
By working with Delphin Investments, USAID has been able to tap into the investment expertise required for mobilizing private capital into Caribbean economies. At the same time, Delphin Investments has benefited from the resources and support of USAID.
"To have USAID as a partner who supports our vision has been tremendous," says Delphin. "When most private sector companies think of clients, they probably tend to stay away from government organizations because of the stigma about the bureaucratic nature and government compliance. There is a lot of documentation and paperwork, but our experience has been great."
Emily Langhorne is a Communications Specialist for INVEST.