Natural Resource Conservation through Electronic Hotel Reservations
When Gabriel Lopez rented out two rooms in his apartment in 2004 to earn income while working on his MBA, he never intended to become a small-business owner.
Over the next five years, Lopez' two rooms-for-rent grew to 24 rooms and a full-scale lodging business he named Casa del Viajero, or "Home of the Traveler." The entrepreneur joined the Honduran Small Hotel Owners Association and the National Chamber of Tourism, where he met other small hotel owners and discovered a common challenge: hotels like Casa del Viajero had many rooms available but no way to market and rent them online.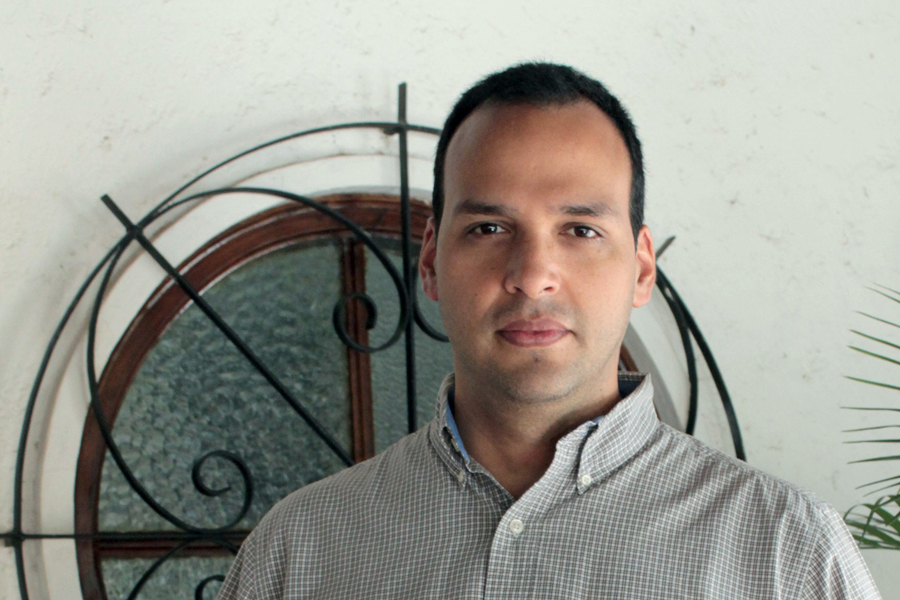 "I had started my own lodging business from my own apartment and was generating enough income to support my family," said Lopez, whose MBA work focused on ecommerce. "I realized this was a real possibility for anyone who wanted to enter the lodging industry or just rent out spare rooms. So I put my brain to work on how this idea could be shared with others."
This idea became PlanTurismo, an online portal for booking reservations at small hotels in Honduras. Lopez began developing the site in 2010, and expanded and strengthened it with assistance from ProParque – a unique project focused on balancing economic development, biodiversity conservation, and climate change adaptation, and funded by the U.S. Agency for International Development (USAID).
The portal was designed to be a leading global tool in the field and make it easier for small hoteliers to operate, sell, and run their businesses.
- Gabriel Lopez
When DAI's ProParque team first met Lopez, we were both struggling to address the same issue: ProParque wanted to increase tourism revenue at Honduran national parks so they could increasingly engage in conservation; Lopez' portal sought to help travelers find and book local places to stay.
Honduras' Best-Kept Secret
Honduras and its surrounding Bay Islands are filled with rich natural resources—stunning coral reefs, white-sand beaches, rainforests, mountain ranges, and an abundance of plant and animal species. Yet one of the most striking features of Honduran protected areas is their lack of tourists, which has serious consequences for the country's efforts to preserve these areas.
In many countries, tourism provides vital funding for conservation, especially where national budgets cannot cover these activities. Despite their great biodiversity, Honduran protected areas are visited by fewer than 50,000 people each year. Visitors pay $1-5 per visit, bringing in $250,000 per year at best. With 36 percent of national territory under protection, the parks have vast conservation needs that are consistently underfunded.
ProParque's broad goal is to strengthen the ability of the Honduran National Park System to protect its natural resources and leverage its parks' economic value. Our team does this by working with:
Parks—to improve their biodiversity conservation efforts;
Local businesses—to create jobs in the surrounding communities; and
Government institutions—to design policies that achieve systemic improvements in protected areas management, and facilitate economic growth and global climate change mitigation activities.
ProParque has focused on applying market-based solutions to conservation, such as developing a concessions policy and instituting competitively priced park entry fees. While some donor-funded projects focus on creating products or experiences that can be marketed to tourists—trails through a national park, guided tours, local handicrafts—a traveler needs more, including places to stay and eat. To increase the competitiveness of national parks as a destination while increasing local revenues, services must be expanded and improved.
Parallel Paths And Opportunities
While small hotels like Casa del Viajero make up 85 percent of the Honduran hotel sector, they struggle to attract visitors from national, regional, and global markets. Globally, more than 1 billion people plan and book their travel online, yet the majority of small Honduran hotels were not connected to any electronic reservation system.
Lopez and the ProParque team were working on parallel paths when they met in November 2011. Both recognized that this online reservation gap represented a market failure and an opportunity. Major global and regional travel sites such as Travelocity, Expedia, and Despegar make a profit through their volume of hotels and bookings. For these global portals, the fragmented small hotel industry in Honduras could not generate a return on investment: the cost to reach out and sign up the hotels would far exceed any short-term profit they might realize. Additionally, many Honduran hoteliers lacked the basic requirements—such as bank accounts, internet access, and computer skills—to participate in this type of system.
Before meeting Lopez, the ProParque team had considered several solutions. One global travel software firm had approached the Government of Honduras and offered to provide access to its global reservation site for all hotels in Honduras for $10,000 per month. For ProParque, this potential grant could meet one of our objectives, but it was very expensive and raised questions of sustainability. Where would the monthly fee come from after the project ends in 2015? Would small hotel owners sign up, and would they have the necessary computer literacy?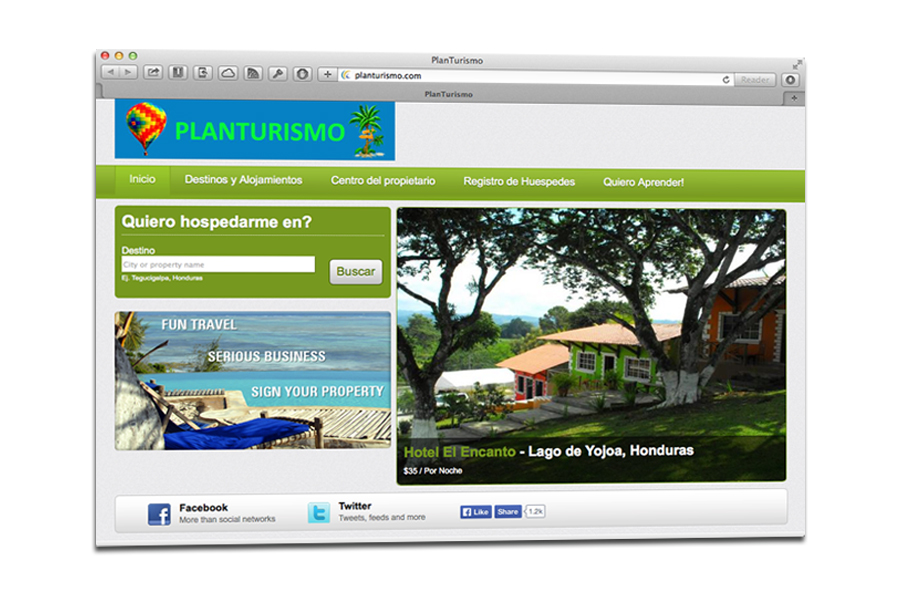 Using seed funding, Gabriel Lopez had already hired a designer and built the software to run planturismo.com, and now faced the question of how to deliver the site to his audiences. For PlanTurismo to become profitable and sustainable, he needed a large volume of hotels, internet-literate small-hotel owners, and a steady flow of interested lodgers. For ProParque, this represented a market-based solution to our objective of increasing traffic around national parks. With a grant to Lopez of $67,000, which enabled him to pursue the portal full time, we contracted PlanTurismo to provide:
At least 40 hotels in its system from ProParque's five high-priority destinations;
Technical assistance to small hotels on how to use the system;
A connection from PlanTurismo.com to global reservation systems and social networks; and
Sustainable management of the site.
Small Business Sprouts
Since launching planturismo.com in January 2013, Lopez has traveled across Honduras recruiting hotel owners to his low-cost, low-risk platform. He delivers in-person training on how to use the system and advertise online, complete with manuals and tutorial videos; Lopez created a virtual training platform within planturismo.com that enables hotel owners to sign up for and learn the system from anywhere in the country.
It is early yet, but through October, Lopez had signed up 142 hotels and completed 40 bookings, generating nearly $6,000 in revenue for the portal's member hotels. In the meantime, the number of visitors to the five ProParque priority destinations has increased between 12 and 28 percent.
Lopez is realistic about the challenges faced by PlanTurismo, including the need to increase marketing through social media, raise awareness among travel agencies, and generate buzz to attract hotels and potential travelers. He also needs to upgrade the website's software to be compatible with more sophisticated systems and thus enable small Honduran hotels to be booked through global platforms.
Of the 420 small to medium-sized hotels in the country, Lopez expects to have signed up 400 by the end of 2014 and begin including hotels in Guatemala, Nicaragua, and Colombia. "The portal was designed to be a leading global tool in the field and make it easier for small hoteliers to operate, sell, and run their businesses," Lopez said. "Little by little, we are coming closer to our vision."