Now More Competitive, Jordan's Pharmaceuticals See Healthy Jump in Exports
Six Jordanian pharmaceutical companies have reported an additional $55.6 million in exports since installing the electronic Common Technical Document (eCTD) system in December 2016. The installation allows the companies to register their drugs in foreign markets using internationally recognized standards, enabling faster and more competitive delivery. Representing sales through the eCDT, this increase is additional to pre-eCDT projections.
The Jordan Association of Pharmaceutical Manufacturers (JAPM) managed the eCTD installation with assistance from the Jordan Competitiveness Program (JCP), a U.S. Agency for International Development (USAID) initiative to support economic growth and investment in the Kingdom. The pharmaceutical industry represents a pillar of Jordan's economy and is one of its few net-exporters. Faced with increasing competition, the six pharmaceutical companies partnered with JCP to strengthen their export position.
Since its inception in 2013, JCP has helped to:
Automate drug registration to accelerate reviews of new drug submissions, especially locally manufactured generics;
Clear a backlog of drugs awaiting registration;
Strengthen the JAPM and Jordan Food & Drug Administration (JFDA) through capacity building, workshops, personal coaching, and technical assistance; and
Reform regulations and processes to support drug manufacture and export.
Implemented by DAI, JCP also assisted the JFDA to customize, procure, and install its eCTD system and provided intensive training on its use, raising JFDA operations to internationally accepted standards.
To learn more about this work, please watch the video below:
Jordan Pharma: Too Big to Fail
Jordan's pharmaceutical sector was, to borrow a phrase, "too big to fail"—a signature industry that contributed tens of millions of dollars to a national economy that has struggled under the weight of an unprecedented refugee crisis. As JCP's remit was to sharpen the competitiveness of Jordan's economy, the pharmaceutical sector was an obvious choice for the kind of assistance only USAID, with its resources and long history of working with the Jordanian government, could provide.
Jordan's pharmaceutical exports had stagnated in the years before JCP's launch. In its first year, JCP studied Jordan's highest-potential industries and confirmed that pharmaceuticals are a prime driver of economic growth and job creation. At the time, however, the industry was constrained by regional conflicts, including in Iraq and Syria—traditional trading partners whose borders were effectively sealed by ongoing violence—and the loss of main markets such as Libya and Yemen due to war.
With JCP's assistance, the JFDA and JAPM have strengthened their partnership and aligned their efforts around a common strategy to enhance exports and improve the enabling environment. This agenda spurred new technological enhancements and automation of the drug registration process—at the regulatory agency and at individual companies served by the JAPM—making the process of submitting, reviewing, and approving new drug applications faster and cheaper.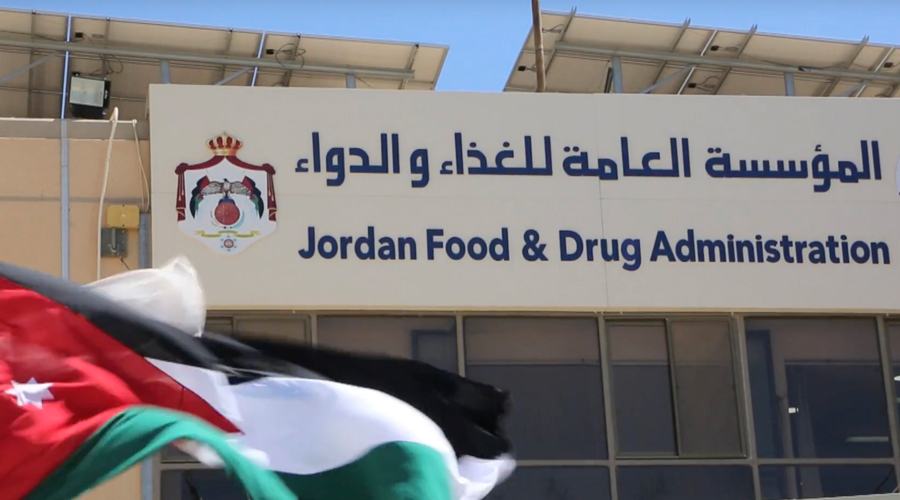 Photo: USAID.
A Bastion of the Regional Health Economy
Jordan was among the first manufacturers of branded generics in the Arab world—producing common medicines such as acetaminophen that have been sold with Arabic packaging to customers throughout the region. The Middle East and North Africa region has long depended on Jordanian drugs for treating ailments of the circulatory, respiratory, digestive, excretory, nervous, skeletal, muscle, reproductive, and endocrine systems. One of the region's largest drug companies, Jordan's Hikma Pharmaceuticals, boasts $2 billion in generic sales worldwide, making it one of the Kingdom's most successful home-grown businesses.
Jordan's pharmaceutical sector benefits from a highly educated workforce, including a high concentration of pharmacists and entrepreneurs with elite business training. In a market study supported by JCP and performed by healthcare consulting company IQVIA, JAPM estimates that the pharmaceutical industry has exported—albeit inefficiently—to 87 countries worldwide.
Located in industrial zones around Amman, Jordan's main pharmaceutical production facilities employ 26,000 Jordanians from throughout the country. Nearly 40 percent of the sector's workforce is female and two-thirds are highly skilled, with high salary scales compared to other manufacturing industries in Jordan.
Protecting Jordan's Medical Tourism: While Jordan's medical tourism sector accounts for up to 10 percent of the country's gross domestic product, that number plummeted in the years preceding JCP's launch. In response, JCP channeled a grant to the Private Hospital Association (PHA) to promote Jordan as a leading medical tourism destination. PHA in turn formed the Jordan Medical Tourism Consortium of eight high-profile private hospitals, which subsequently saw substantial increases in patients and contracts from targeted markets in the Middle East, North Africa, and Asia. In 2016, for example, these hospitals served 206 patients from target markets in Algeria, Chad, Kazakhstan, and Oman—in 2018, they saw 1,163 patients from those countries, largely people seeking cosmetic surgery, neurological care, orthopedic procedures, organ transplants, and other treatments. Over the same period, the PHA increased from two to 52 its contracts signed with private hospitals across the region to allow their patients to be treated in Jordan. With the grant funding, the Consortium has targeted additional markets, raising awareness of Jordan's medical offerings through online marketing campaigns, tours, and exhibitions.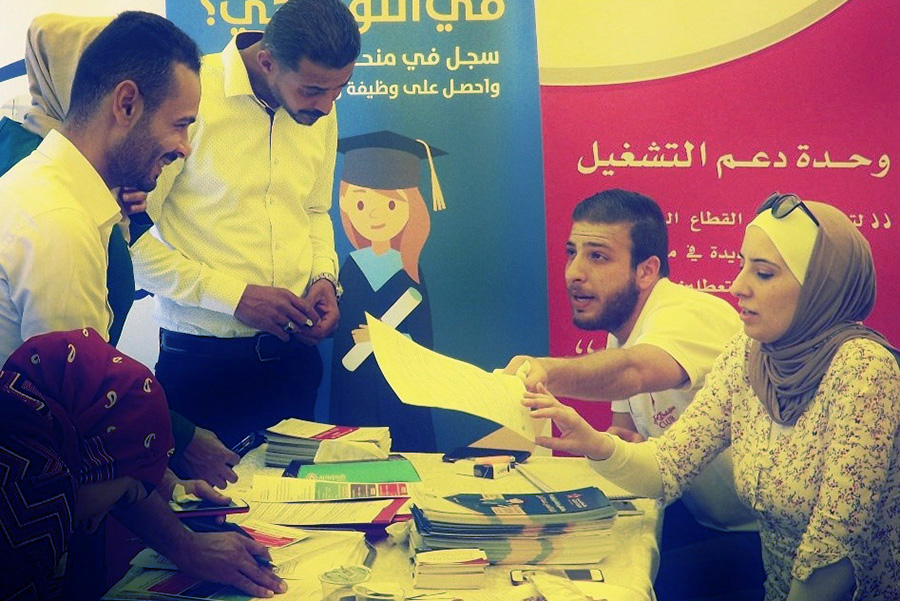 USAID's Jordan Workforce Development Program job fair promoting Al-Quds University scholarships.Photo: USAID.`
A Source of Jobs for Young Jordanians
Pharmacy science, including the training of new pharmacists, is one of the most popular fields of study at Jordanian universities. According to the JAPM, the pharmaceutical industry has contributed some 30 million Jordanian dinars, or $42.3 million, to fund research and development benefiting the country's pharmacy schools. The sector is a major engine of job creation for young Jordanians, accounting for approximately 7 percent of the country's industrial gross domestic product, according to the JAPM.
The surge in pharmaceutical exports benefited Jordan by strengthening the tax base, generating employment, and anchoring local economies where industrial plants are located. As pharmaceutical manufacturing in neighboring Iraq has slowed due to the conflict there, Jordan's exports to its neighbor have played a vital role in maintaining the Iraqi public's access to health supplies.
The outlook for Jordan's pharma sector is promising. Its companies are strong, its products continue to enjoy high demand throughout the Arab world, and the workforce that sustains it is among the most skilled in the region. As the industry looks to the future, continuing cooperation between the JFDA and the private sector, represented by the JAPM, will be vital to ensure an enabling environment for sustained growth, job creation, and improved health.