Paving the Way for Green Energy Financing in the Mediterranean
In the face of a gathering climate crisis, "The world must quickly implement massive energy efficiency and conservation practices," declared more than 11,000 climate scientists in a statement issued November 5. Their warning lends added urgency to a program that the European Bank for Reconstruction and Development (EBRD) has been running for more than a decade, and which is now poised to expand in North Africa.
In 2006, the EBRD launched Sustainable Energy Financing Facilities (SEFFs) as part of its Sustainable Energy Initiative. Through these facilities, the bank provides credit lines to financial institutions, which in turn enables them to lend money on to their business clients for investment in energy-efficiency projects.
Since 2006, the EBRD has launched such facilities in 22 countries to encourage businesses and individuals to invest in green and renewable energy—leading to positive financial and environmental outcomes for businesses, residents, and communities.
DAI's first experience managing an EBRD SEFF was in Bulgaria, soon followed by facilities in Poland and the Western Balkans.
Replicating SEFF in the Mediterranean
The success of its SEFF projects led the EBRD to replicate the model, and in 2013 DAI was awarded the first SEFF in the southern Mediterranean. The Morocco Sustainable Energy Financing Facility (MorSEFF) supports industrial companies' investment in energy-efficient equipment—representing an environmental and an economic benefit in a country that, when MorSEFF was launched, was importing 90 percent of its energy needs.
The €110 million allocated to MorSEFF included financial contributions from EBRD, Agence Française de Développement (AFD), Kreditanstalt für Wiederaufbau (KfW), the European Investment Bank (EIB), and the European Union (EU). Those funds were on-lent to industrial companies willing to invest in green-energy equipment and complemented by EU-funded technical assistance or grants to participating companies.
Proving the Case
However, despite a favorable regulatory environment, a well-developed financial sector, and a solid existing base of financing for small and medium-sized firms, Moroccan banks were reluctant to participate in MorSEFF in the early days. "Banks had difficulties grasping the added value of the project and it took us time and effort to demonstrate the impact of the project on their clients' businesses, and therefore on their own portfolio," said Team Leader William Fellows.
Eventually, the Banque Marocaine du Commerce Extérieur (BMCE) and Groupe Banque Populaire did jump in, and the first investment was disbursed in 2015, two years after the launch of the project. "We had to prove the case that green investments are good investments and that MorSEFF would help companies save cashflow and become more competitive," said Fellows. "To do that, we worked with the banks' salesforces: they had to be able to convince their clients that buying expensive, energy-saving equipment was better for their businesses."
Demonstrating Success
Four years after the first disbursement, DAI experts had trained more than 275 credit officers and 40 local engineers in energy efficiency and energy efficiency financing, and MorSEFF had engaged €109.5 million worth of financing through its partner financial institutions, BMCE and Groupe Banque Populaire. In 2018, the EBRD injected an extra €40 million into the facility and admitted Banque Marocaine pour le Commerce et l'Industrie—BNP Paribas Group—as a third partner.
In April 2019, MorSEFF organised an award ceremony for Best Energy Efficiency and Renewable Energy Investments in Morocco. Sixteen companies were recognized for their "exceptional commercial decisions that improve resilience and competitiveness of Moroccan businesses," said Alexandra Veilleux Laborie, Director of EBRD in Morocco. "With our bank partners, we have demonstrated the value of investing in higher-performance technologies that help reduce greenhouse gas emissions."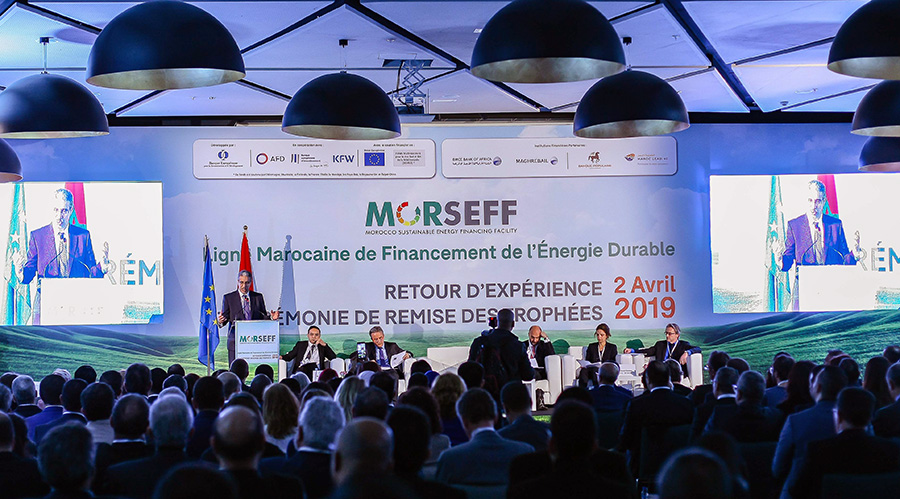 Aziz Rabbah, Moroccan Minister of Energy, at the MorSEFF Award Ceremony in April. Photo: EBRD MorSEFF.
Overall, the investments supported by MorSEFF have resulted in 207,289-megawatt hours of annual energy savings and helped avoid 102,725 tons of CO2 equivalent emissions annually. This reduction has been achieved with an average investment of approximately €400,000, covering projects ranging from equipment upgrades to heating, cooling, and insulation solutions.
Encouragingly, MorSEFF has successfully demonstrated the viability of the SEFF model in francophone North Africa, and the EBRD in July launched another facility in the region—the Tunisia Green Economy Financing Facility (Tunisia GEFF)—which makes €130 million in credit available for on-lending to businesses for investment in technologies and services supporting the transition to a green economy.
Anne-Sofia Holmberg manages DAI's EBRD programmes and Mathilde Gaston-Mathé is DAI's Brussels-based senior communications specialist.