Q&A: A Conversation with Jenny Baker, DAI Global Health Senior Vice President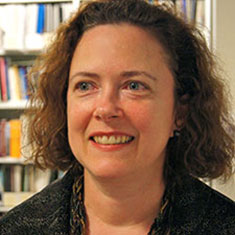 Jenny Baker was appointed to lead DAI's Global Health business in March of this year. Given all that has happened in the health arena since then, it has taken us longer than usual to catch up with the incoming Senior Vice President. Here we get her perspective on health and development challenges in the era of COVID-19.
COVID-19 is quite a baptism of fire. Has it been a difficult time to move into your new position?
"In some ways, yes, of course. It's challenging at the best of times to assume the leadership of an established team and put your stamp on it, but it's especially difficult when everyone is working from home. Team building and agenda setting take on a whole new aspect when you're dealing with people remotely. But I'm grateful to have been working with this team for a few years now, and for their support in making the transition."
And truthfully, the extraordinary challenge of COVID-19 is its own unifying force—a rallying moment that brings us all together around clear needs and imperatives. I think that applies to the whole development community, not just to our DAI team.
When it comes to COVID-19, what has been your first order of business?
"Keeping everyone safe and well. After that, ensuring that critical programs are continuing to deliver to the maximum extent possible, and helping those projects take on the particular problems posed by COVID-19."
How are projects taking on that challenge?
"They've risen to the challenge in various ways. For example, the Tackling Deadly Diseases in Africa Program, TDDAP, has an emergency response mechanism that allows the funder—the U.K. Department for International Development—to quickly channel funding to pre-identified and vetted organizations in the project's six focus countries to complement national and international response efforts.
"Global Health programs that may not be working on health security directly have also responded COVID-19. The USAID Health Information Systems program in Haiti developed a COVID-19 tracker application for Haiti's health information systems to enroll and monitor future COVID-19 patients throughout the country. The HIS technical team also developed an interactive web version of the Carte Sanitaire, Haiti's health facilities map, to help the health ministry's epidemiological unit develop an emergency response plan for disease surveillance and reporting.
"In Indonesia, the USAID Jalin Project is hosting a webinar series on COVID-19 infection prevention and control for midwives at primary care facilities, in collaboration with the Indonesian Midwives Association. USAID Jalin's mission is to reduce preventable maternal and newborn deaths; by working with midwives to ensure continued access to high-quality care during the pandemic, we can save mothers and their newborns."
Where do you think DAI can make the most difference in the response?
"Well, DAI really made its mark with our work in health security and pandemic preparedness. Starting with the Community-Based Avian Influenza Control project in Indonesia in 2005, we've worked continuously to fight pandemics—through STOP AI, RESPOND, Strategies Against Flu Emergence, the global Preparedness & Response project, and now TDDAP.
"From that experience, we've been able to make an ongoing contribution to health security. It's gratifying to see that tools we developed years ago under STOP AI for WHO have been tailored for COVID-19 by other partners. The Preparedness and Response project's Preparedness Planning toolkit is being used and adapted by other DAI projects and partners. So we're excited to continue to contribute to global health security and share our learning and work with other implementing partners, across geographies and donors.
"But our contribution is about so much more than just health security. DAI—with development experience in community engagement, governance, economic growth, agriculture, environmental programs, a broad portfolio—can make telling contributions because we bridge the divide between straightforward pandemic response and broader solutions to the pandemic's unprecedented economic and social spillover effects."
What will that mean for future programs?
"Of course, there will need to be a focus on health security, and we need to continue to contribute to that. But going forward, the development community will need to take a broader perspective, a perspective we've sometimes called "integrated health security." Integrated health security calls for considering the pandemic's implications on everything from health systems to the health workforce to its effect on agricultural practices, or the economy.
"In short, we need to be prepared to look at the pandemic's total effect. I'm excited to be working in global health here at DAI, where we're uniquely positioned to tackle that immense challenge."