Q&A: Ehat Miftaraj, Anti-Corruption Expert, on the Prospect for Rule-of-Law Reform in Kosovo
A relatively young nation, Kosovo has implemented significant reforms in its justice sector, including in legislative drafting, institution building, and the training of justice sector personnel. But according to the European Commission's Kosovo Progress Report of 2018, most Kosovars still see the judiciary in Kosovo as compromised by corruption and justice institutions as unprepared to serve people's needs.
To address these challenges, Kosovo launched the Functional Review of the Justice Sector (FRRLS), a process intended to analyze the rule-of-law sector and develop a national strategy to enhance it. The process is led by Kosovo's Ministry of Justice, with a steering committee made up of representatives from key rule-of-law institutions, including the international donor community.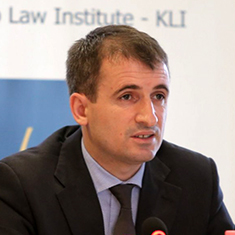 DAI helps advance the FRRLS process through the European Commission-funded project—Support to the Functional Review and Sector Strategy Development for the Rule of Law Sector in Kosovo. Former Ministry of Justice staffer and anti-corruption expert Ehat Miftaraj was integral to that effort. A year after the project's inception in 2018, we sat down with him to learn more about its findings, its recommendations, and the prospects for meaningful justice sector reform in Kosovo.
Can you tell us a little about the FRRLS process?
"The Government of Kosovo launched its functional review in 2016. Since the process involves so many technical areas and organizations, we broke it into phases. The first phase analyzed seven 'pillars,' or key aspects of judicial reform, which were in turn identified by working groups representing the Ministry of Justice, the Kosovo Judicial Council, the Kosovo Prosecutorial Council, judges, prosecutors, police, other law enforcement agencies, and civil society and international stakeholders. The second phase, beginning in 2018, focused on deeper analysis of prioritized policy areas which were discussed during stakeholder workshops. All told, the process yielded 16 policy papers, of which DAI led the drafting of eight. These papers should significantly shape the forthcoming rule-of-law strategy in Kosovo."
Were you surprised by any of the papers' findings?
"Not really. The topic areas were derived from participatory discussions with stakeholders, so by the time they were complete, we were not surprised by the findings or recommendations. But the data we uncovered did lay bare some eye-catching numbers and does offer glimmers of hope. For example, in 2015 there were 440,832 unresolved cases in the Kosovar court system. But only three years later, that number had fallen to 245,518. This reduction is due in part to improvements the sector has made in case management systems. But we still have work to do, especially for civil cases, most of which still take longer than four years. We can do better, and in order for Kosovo to advance our economy and reach our goal of EU accession, we must do better."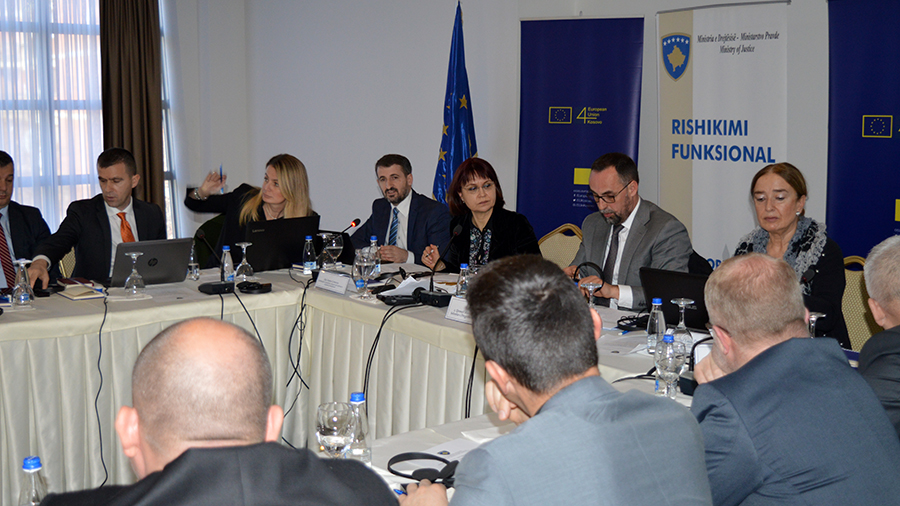 Ehat Miftaraj, fourth from left, leads a policy paper workshop with Functional Review working group members including Kosovar judges, private practitioners and Ministry of Justice authorities. Photo: EU FRRLS.
What are the most valuable lessons from the policy papers?
"The review's evidence-based findings indicate that our justice sector institutions need immediate interventions to become more independent, professional, efficient, fair, and transparent. Most importantly, the institutional integrity of the justice institutions and personal integrity of justice system stakeholders is weak and needs improvement."
Can you give us an example?
"A simple but critical example is the capacity of judges to understand and apply the law. To uphold high standards among the judiciary and ensure fairness for the people of Kosovo, we must be able to hold judges accountable for the quality of their work. For example, the Kosovo Judicial Council is legally obligated to conduct performance evaluations of judges. This requirement should have entailed some 117 evaluations in 2018; in reality, only 64 judges were evaluated. Furthermore, we found not a single case in which a Kosovo Judicial Council member was subject to disciplinary proceedings—despite allegations by civil society watchdogs that KJC members have engaged in activities that might merit such proceedings. The good news is that if we can strengthen accountability and oversight, then real advances in Kosovo's justice system are within our grasp."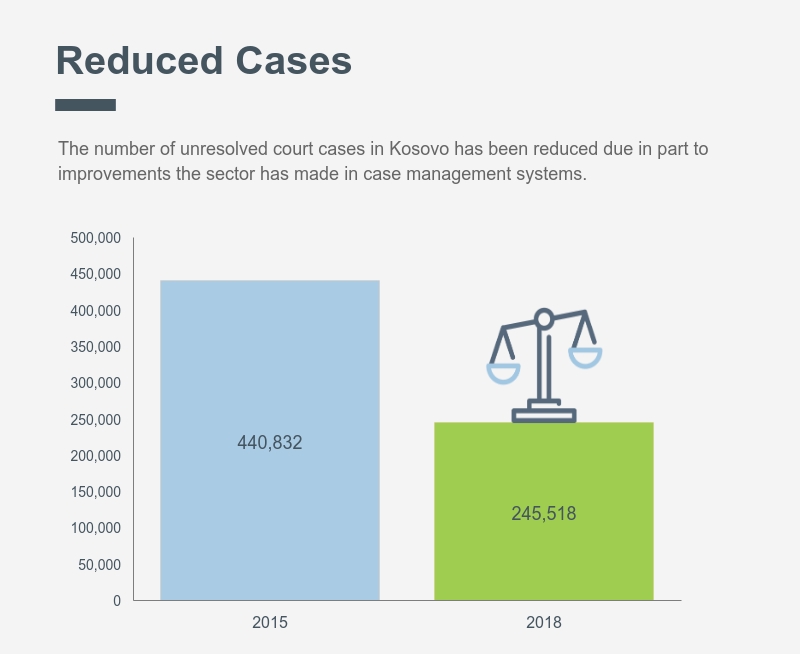 Based on the researchers' recommendations, what can Kosovar justice institutions and civil society do to support the rule-of-law strategy in Kosovo?
"First, we need a united front. Justice institutions and civil society need to come together around a shared commitment to dialogue and cooperation in monitoring and implementing the strategy. Unfortunately, we see significant mistrust between these two groups, and we need to overcome that. One way to build trust is to help justice institutions and civil society representatives express their respective opinions in public debates regarding the strategy and its implementation. Such public debate ought to be substantive, aimed at problem-solving and building knowledge and trust in justice institutions."
What will be the biggest impact of the FRRLS process on Kosovo's justice sector?
"I'm encouraged that FRRLS has revitalized an interest in the rule of law in Kosovo. Everyone knows about the FRRLS process throughout the country, and the interest extends beyond Pristina and into the municipalities. Stakeholders are eagerly waiting to see what the results will be. Also, FRRLS identified concrete ways to address bottlenecks that prevent the proper functioning of the rule of law in Kosovo. The expectations are that trust in justice institutions can be restored if the policy measures and recommendations are implemented—if we can build a functional and responsive sector that is independent, professional, efficient, fair, and equally accessible to all Kosovo citizens. The FRRLS has also been important in demonstrating the benefits of an inclusive process, bringing together—as it did—USAID, the EC, the United Nations Development Programme, and the British Embassy, in addition to numerous Kosovar institutions. As a result, the decisions and developments now being made are not seen as unilateral or arbitrary, and they have a better chance of being embraced."
Chantal Agarwal is a Senior Governance Specialist. Gabriela Georgieva, a consultant based in DAI's U.K. office, worked on the Support to the Functional Review and Sector Strategy Development for the Rule of Law Sector in Kosovo project.