Q&A: How Modernizing Ukraine's Financial Infrastructure Led to More Inclusivity and Investment
This post is one of a series of posts on FST.
The U.S. Agency for International Development (USAID) launched the Financial Sector Transformation (FST) Activity in 2016 to support efforts to reform Ukraine's financial sector. The FST team worked closely with government, international financial institutions (IFIs), and other market actors in the reform process, with a focus on long-lasting changes that enable new products for businesses and consumers and protect consumers from fraudulent actors.
At the heart of FST was DAI's market systems approach, which addresses both demand- and supply-side actors and seeks to improve the wider business enabling environment of the financial sector. By increasing competition within the financial system, broadening service offerings and building up financial literacy especially among young people, low-income, and marginalized populations, FST helped ensure the benefits of new financial reforms are felt by all Ukrainians.
DAI's Vice President of Economic Growth Colleen Green sat down with three women from FST's leadership team to get their perspective on the recently concluded project's achievements, on being women leaders in the financial sector in Ukraine, and on what's next.
Green interviewed Deputy Chief of Party Yulia Vitka (recently named one of Ukraine's Top 50 Women in Fintech), Financial Literacy and Communications Director Natasha Lozytska, and Legal Team Lead Tetyana Grischenko.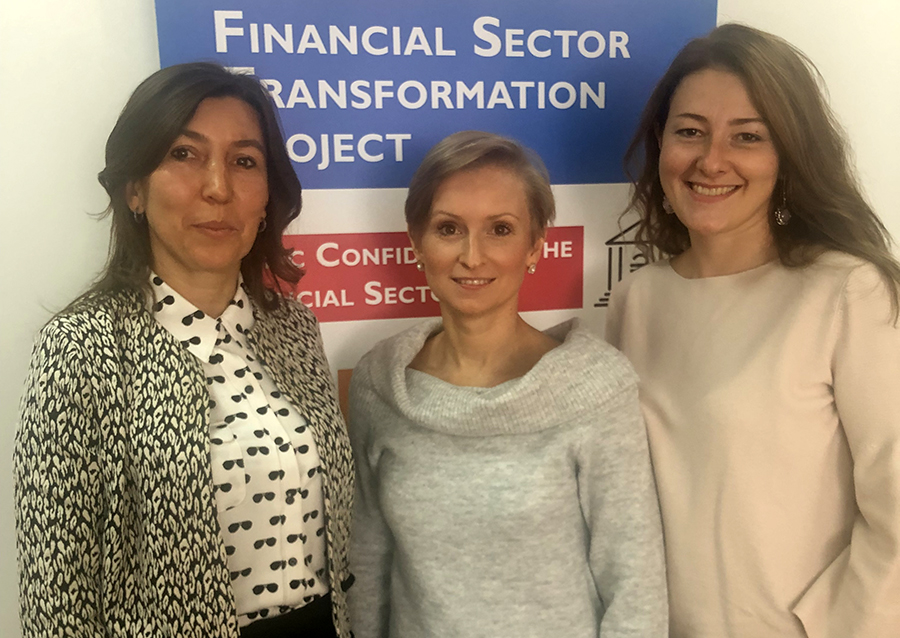 From left, Natasha Lozytska, Tetyana Grischenko, and Yulia Vitka.
Q: FST began almost five years ago. What did you think FST could achieve and how did things turn out?
Vitka: One of my areas of focus was to have a proper legal and regulatory framework in place for nonbank capital markets, for consumer protection. At the time I was quite pessimistic. Lots of laws needed to be passed. We worked hard to do this—despite changes in parliament and in the president's office. Truthfully, I did not expect changes to happen. I also thought at the time that we would dedicate more effort to small business finance, but we were still too overwhelmed with fixing the [enabling] environment. We could not dedicate as much time to working with small firms to build their capacity. This is why we narrowed our focus to leasing and factoring.
Q: What do you view as FST's greatest achievement?
Vitka: For me it was the passage of the new Law on Capital and Commodity Markets because I started working on this and the Derivatives Law on my first USAID project 12 years ago. It is a long story. It gives new pressure to develop the capital markets but also to organize commodity markets.
Grischenko: I'll be more personal. [Our greatest achievement is] putting together this team. It is truly an amazing team. I am a newcomer to USAID projects and I wasn't sure what to expect. The dedication of each member of the team is so high. It is rare that you see this dedication elsewhere.
Lozytska: I don't want to be boastful but we were the leading force behind consumer protection and financial literacy. We were the ones who initiated the financial literacy work. I am proud of our financial literacy course for high school students. It is now part of the official curriculum of the Ministry of Education, and I am proud of this. Moreover, partnering with [the U.S.] Peace Corps made it possible to reach rural audiences. We are reaching a much broader audience in rural areas and I am proud of that sustainable effort.
Q: What do you view as the greatest barrier to change in the market? Vitka: The greatest barrier is the resistance of the market itself, and for two reasons. First, there is a low level of awareness of how the financial sector can function and profit in the long term. Second, there is a fear of change. People would rather stay where they are than compete with international players in a diversified financial system. When people look [at the] number of financial products available, it is hard for them to comprehend something new.
Grischenko: On a people level, FST has been about changing knowledge, behavior, and attitudes, and the level has been raised. But there is a long way to go to change the mindset of Ukrainians to not rely on the state … that this is their life and they are responsible for it. Changing this mindset will take more time. Ukraine's [financial literacy score against the] OECD index has increased—we now have a score of 12.3 out of 20. There is space for improvement and behavior change.
Q: FST focused on important infrastructure in the financial sector—policies, laws, regulations, staffing, protocols. But some of this "piping and wiring" is simply not visible to the general public. What do you believe is FST's more visible legacy?
Vitka: Most visible is the consumer protection and financial literacy. Nowadays people have a single window to make their complaints at the NBU. There is, however, also a need for additional regulation to fix issues with the payday lending market.
Lozytska: We worked with the Pension Fund of Ukraine (PFU) to improve their systems for citizens and promote e-services for the people. The PFU now has the biggest database of Ukrainians. This [system] is for workers and retirees. We have produced a dozen [public service announcements] on e-services to publicize that this was really done for people. In COVID times [people] can now do lots online.
Grischenko: If you ask schoolteachers, Global Money was the most visible thing, and the financial literacy course. At the university level, it is the legal clinics. Within the capital markets, it was our work on improving the legal and regulatory structure. We have worked in so many areas. It is multi-faceted work.
Q: If you could wave a magic wand to change anything in the financial sector, what would it be?
Vitka: Interest rates for loans. Finance should be accessible. People should be able to buy a home or a car. They often defer to payday loans to just have cash. If they could have more diversified and classic products at banks—car loan, mortgage, pension investments—it would be more cost effective, more affordable.
Grischenko: And [finance] should be affordable for farmers as well. A farmer should be able to buy a tractor. A clinic should be able to buy new equipment. It means food and services are more accessible. Without this access to finance for SMEs, Ukraine will not be able to develop.
Q: You three have been important drivers of FST's results. Yet global surveys show that on average only around 20 percent of women reach senior leadership or executive roles in finance. Who were your role models and mentors to get to this point?
Vitka: I don't think my role model comes from the financial sector. There are many women that do a lot in other sectors and social areas. For example, the woman who runs the charity, Tabletochki. Or others that do a lot of charity work. They work with people who have hardships. To me that is motivational.
Grischenko: My father played the greatest role in allowing me to become who I am. He pushed me. It wasn't a punishment. He just pushed me to do more. I now have a daughter and son and I am trying to instill in them that they can do things in their life that make them happy. Lozytska: There is no difference between what a man or woman can do. If you are motivated, you can do this for yourself, for your kids, for the country.
Q: Globally, we have seen great interest in gender-lens investing (GLI), an approach that takes into consideration gender-based factors across the investment process to advance equality. How is Ukraine thinking about GLI?
Vitka: As [FST's financial literacy] survey has demonstrated, there is literally no difference in the knowledge of women and men. So, the challenges that women face are a perception. This is something that women have to overcome to show they have the same capability, that she has great ideas.
Grischenko: I think we are far behind the west on this issue. Social factors are only starting to take basic roots in Ukraine. We don't have laws on gender balance of the supervisory boards of state-owned or large companies. We don't have laws that disclose gender pay gaps. I would love to see that in my lifetime.