Q&A with Protect Wildlife Leader Rebecca Paz: Biodiversity Conservation and Local Development Can Go Hand in Hand

The Philippines is a megadiverse country with rich marine diversity and unique coral reefs that 1,100 terrestrial invertebrates and 5 percent of the world's flora call home. Sadly, these biodiversity assets face pressures such as land conversion for agriculture and settlements; illegal, unregulated, and unreported harvesting; and destructive mining and quarrying.
Between 2016 and 2021, the Protect Wildlife project, funded by the U.S. Agency for International Development (USAID), took a multi-pronged approach to help protect biodiversity in this exceptional environment. Working across varied geographies, the project sought to combat wildlife trafficking by building the capacity of local stakeholders; incentivizing communities and local government units (LGUs); leveraging financing; and deepening knowledge, changing attitudes, and improving practices for the effective management and regulation of wildlife habitats and trafficking transshipment points.
USAID helped local partners improve the natural resource management of 750,000 hectares of biologically significant areas, avoid 1.25 million metric tons of greenhouse gas emissions—through sustainable landscape activities to protect and manage forest cover in protected areas—and achieve other results including:
Reaching nearly 1.12 million people through 25 behavior change campaigns.
Generating $625,000 in revenue from the sale of ecosystem goods and services in activity sites.
Assisting 19 universities and colleges to develop or strengthen environmental science, marine biology, environmental law and protection, and agroforestry courses.
Training 1,116 national government enforcement staff and more than 840 wildlife officers who applied improved environmental law enforcement practices against violators—yielding 1,301 confiscations, seizures, and arrests.
Shannon Vasamsetti, from DAI's Environment team, sat down with Chief of Party Rebecca Paz to discuss the project's approach.
How did you build effective partnerships with the sub-national government? With civil society? With communities?
"Our approach to building partnerships with LGUs was based on past experience, particularly from the Philippine Environmental Governance Project, which worked with more than 80 LGUs. Protect Wildlife made sure that assistance to LGUs addressed a capability gap that the LGU itself recognized, and that such assistance allowed LGUs to fulfill relevant environmental and natural resources mandates. The critical first step was to conduct a joint assessment with these potential partners to identify the focus of the assistance and ensure that it fit their needs.
"Our activities were designed to be consultative and participatory. In each partner LGU, we worked with a technical working group (TWG) that included civil society organizations (CSOs), community and indigenous people's leaders, and members of local legislative councils who appreciate the policy and budgetary requirements of the initiative. Members of the TWG increasingly took on facilitation and leadership roles, with mentoring provided by our team, especially in activities that involved community engagement.
"As trust and confidence in each other developed, our partners requested to participate in the project's other areas, so we ended up doing multiple and simultaneous activities with most of our LGU partners, such as forest land use planning, developing ordinances, wildlife and environmental crime enforcement, establishing payment for ecosystem services schemes with government water utilities, and designing behavior change communication campaigns. At the end of the project, we believe that our government partners had sufficient capacity to oversee implementation of plans.
"We engaged with CSOs either as participants in our activities with LGUs and the Department of Environment and Natural Resources (DENR) or as co-providers of assistance to communities. In the latter case, the partnership was driven by an agreement with Protect Wildlife and according to a workplan. Our CSO partners have specific missions, and they bring to the partnership resources that may include funding, technical expertise, or local networks.
"For communities, we worked with 26 groups mostly on community livelihoods and enterprise development efforts, especially during the last two years of the project when we took part in USAID's Women's Global Development and Prosperity (WGDP) Initiative. Even with such a short engagement, I believe we created significant impacts on their livelihoods and enterprises. We linked them with our CSO, local government, and private sector partners that could provide these groups with post-project assistance."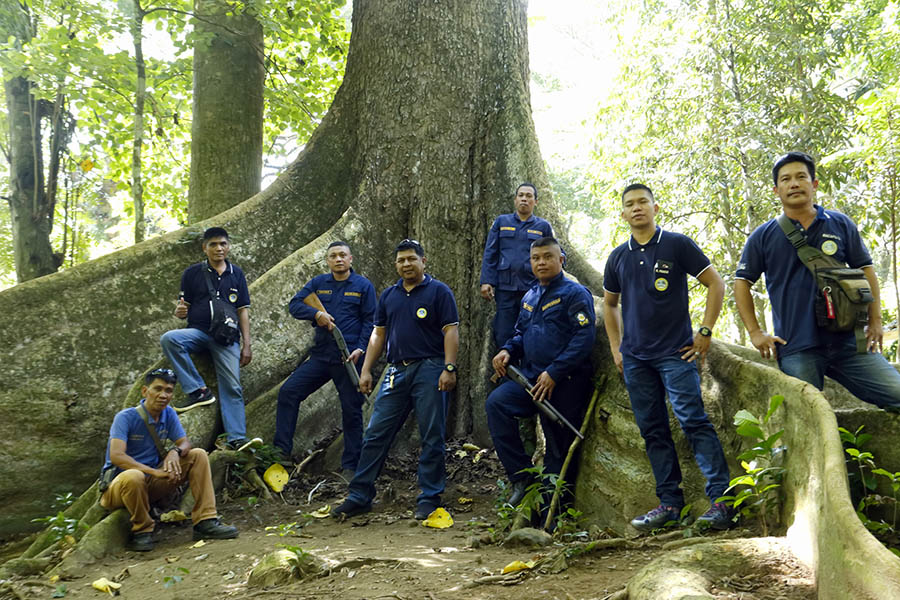 Newly trained wildlife enforcement officers. Photo: USAID Philippines Protect Wildlife.
How did you integrate an ecosystem-based approach into a countering wildlife trafficking program (CWT)?
"CWT work is often viewed as an enforcement or crime prevention effort, so the usual response emphasizes hiring more enforcers, enacting stricter laws and ordinances, coordinating among enforcement agencies, confiscating and seizing illegal products, and prosecuting violators.
"Protect Wildlife offered a broader approach. At the outset, we recognized that CWT must be tackled on two fronts: on-site and off-site. On-site refers to the habitat of wildlife, which usually is a protected or conservation area, forest land, or coastal and marine area. Off-site refers to transshipment points—markets, ports, airports, and points along traffic routes. The Philippines is a source, destination, and transshipment point of illegally traded wildlife.
"There are interventions that are common to on-site and off-site work. These pertain mostly to improving enforcement capacities, networks, and systems. The challenges of on-site work are far more difficult, given the threats to habitats and species that need to be addressed—the destruction of habitats due to land conversion, settlements, and mining; limited capacities to manage wildlife habitats; unchecked illegal resource extraction; attitudes of communities toward conservation and wildlife protection; limited livelihood opportunities and pressures from poverty in upland and rural areas.
"These challenges warrant an integrated on-site approach—one that targets the conservation and development needs of the site, looks at the health of the natural assets and the socio-economic conditions of communities, and links biodiversity conservation to sustaining ecosystem goods and services that bring about progress.
"We view integrated resource management that is ecosystem-based and participatory as a critical part of the overall effort to reduce illegal wildlife poaching and trade and stem biodiversity loss. Stakeholders—governance authorities, LGU planners, local policymakers, on-site and downstream communities—must understand and appreciate the value of biodiversity and its link to ecosystem goods and services and well-being. There must be a clear land-use zoning regime that considers the need to balance protection and development. Incentives must be provided to communities to adopt conservation-oriented attitudes and behaviors (that is, stop wildlife poaching and other activities that destroy habitat, report violators, favor sustainable rather than extractive agriculture and agroforestry, and so on). Guides and incentives must be provided to direct public and private sector investments to develop production areas and improve the livelihoods of local communities."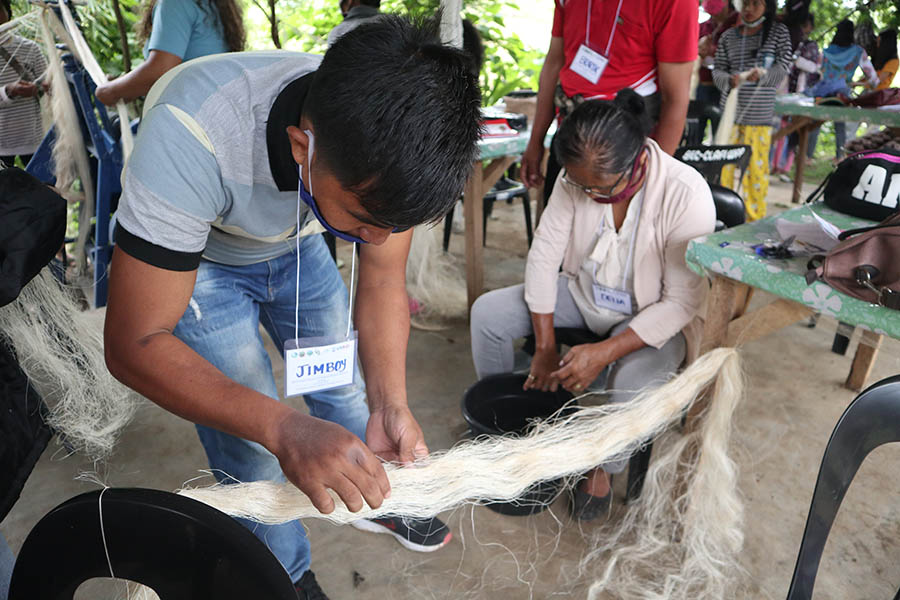 The project worked with cooperatives to promote ecosystem goods and services, such as abaca, a banana species native to the area that thrives in climate-friendly agroforestry systems. Photo: USAID Philippines Protect Wildlife.
Protect Wildlife integrated land use planning and land use management with the concept of added value. Can you explain this approach?
"Let me take up first the question of integration.
"In the Philippines, land use and resource management planning is done at different governance levels. Different authorities would have different planning and management requirements and follow different review processes. Guidelines for protected area management emanate from DENR and these are distinct from the forest land use planning process. There is a special agency, the National Commission for Indigenous Peoples, that oversees planning and management of ancestral domains, while other forms of tenure in forestlands and protected areas are under DENR and other relevant agencies.
"As you can imagine, it's complicated.
"In Palawan—the region richest in biodiversity assets, which served as our core area—there are additional requirements to consider under the Environmentally Critical Areas Network policy of the Palawan Council for Sustainable Development. Then there are the comprehensive land use plans that LGUs are mandated to prepare, covering land classifications—protected areas, forestlands, alienable, and disposable lands—that are within an LGU's jurisdiction. It is not uncommon to find an area with multiple and overlapping management plans, and uncoordinated and conflicting land and resource use systems among adjoining or overlapping management units.
"We needed an approach that would bring about complementary management policies, plans, and investment decisions among land and resource managers to address the conservation and development needs of the given landscape-seascape.
"We designed a resource management planning approach with land use zoning at its center. The main features of the approach included:
Integrated analysis at a landscape-seascape level. The protected areas and surrounding forestlands were considered one landscape. This provided stakeholders a broader view of the resource area, its biophysical characteristics, the range of its land uses and potentials, and threats and risks. This analysis allowed stakeholders to experience the connectivity and interdependencies of protected areas and forest lands (and tenured areas within), and the range and flow of ecosystem goods and services within the landscape and to downstream areas.
Policy-consistent zoning regimes. There are existing policies that define or prescribe the land use and management of specific areas. Examples of areas that are required to be strict protection zones are primary forests, slopes more than 50 degrees, and elevation more than 1,000 meters above sea level. There are crosscutting policies that also have an impact on conservation policies (local government code, for example, or policies on climate change). Protect Wildlife made sure that stakeholders were aware of these policies and how to apply them to the landscape-seascape.
Consensus among stakeholders on the zoning scheme and the land and resource uses allowed and prohibited for each zone. Achieving this consensus involved various stakeholders, from community members to policymakers. It may have resulted in a longer planning process, but having clear and consensus-based zoning and rules for the management of zones will facilitate coordination among resource managers and encourage local compliance with zoning.
Formal approval of the zoning by appropriate governance bodies. The approval led to the formulation of detailed interventions and an investment plan that aligned public and private investments with zoning.
"Applying this approach served as Protect Wildlife's 'value add' in the resource management planning process. The key point is that it's replicable and can be integrated into protected areas' forestlands and LGU planning policies and processes without overhauling their existing systems."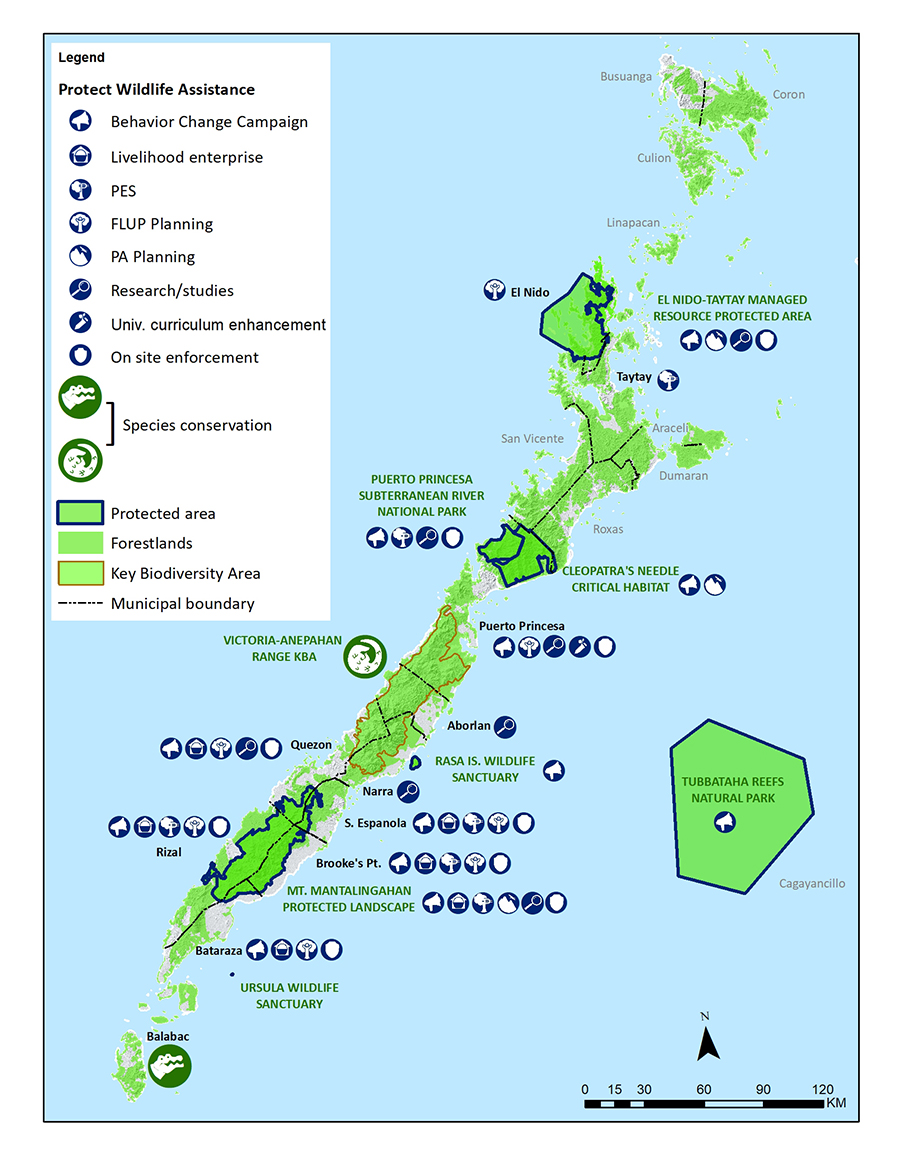 Palawan site map created by Protect Wildlife. Similar maps were produced for each site.
Protect Wildlife developed key digital platforms to improve enforcement effectiveness. Tell us about these digital applications.
"Faced with enemies—illegal traders and wildlife traffickers—who use online systems and networks to avoid detection, it is imperative that enforcers in the field are equipped with technology solutions to prevent environmental crimes. Wildlife trafficking networks and syndicates take advantage of the weaknesses of current enforcement systems, including the corruption that such systems beget. This is why we supported the DENR Biodiversity Management Bureau (DENR-BMB) to develop WildALERT (Wildlife Agency and Citizen Law Enforcement Reporting Tool), and why we collaborated with the Palawan Council for Sustainable Development Staff to develop a digital enforcement system called Biodiversity Resource Access Information Network (BRAIN), which supports on-site and off-site wildlife and environmental law enforcement in Palawan.
"The WildALERT app, soon to go national, has two functions: wildlife species identification and wildlife crime reporting. Many of our enforcers are unable to immediately and correctly identify wildlife at the point of detection and apprehension, which often results in the dismissal of cases due to poor documentation and delayed filing of reports. Although DENR enforcers have been provided with identification guidebooks and Protect Wildlife organized species ID training, these were insufficient. They needed a better tool. With WildALERT, enforcers can now identify species using their physical features. WildALERT's library contains 480 fauna species.
"Moreover, the system allows enforcers to submit and file reports on potential wildlife crimes in real time, directly to enforcement authorities. WildALERT is designed to work on low-end smartphones. Recognizing connectivity problems in most parts of the country, the app users can save a report offline and upload it once data services become available. The app can access a directory of DENR offices from across the country if immediate support is needed. The Asian Development Bank's Illegal Wildlife Trade project is progressing WildAlert by developing a module specifically on flora and has utilized Protect's consultant to ensure seamless integration into the app.
"The BRAIN app provides enforcers information that is important to efficiently coordinate, plan, and execute enforcement actions. Palawan is the country's main hotspot for wildlife poaching. BRAIN improves the capacity of Palawan enforcement officials to enforce wildlife and environmental laws across the province.
"A key component of BRAIN is the Rapid Enforcement Support, Planning, Operation, and Network System Enhancement (RESPONSE) module. Through RESPONSE, enforcers and members of the province-wide enforcement network jointly plan enforcement operations, coordinate enforcement actions, and share information. The module's mapping tools can be used to plot enforcement routes and target locations and entry and exit points.
"Both WildALERT and BRAIN have public reporting modules that allow the public to anonymously report wildlife crimes. The reporting module will help diversify sources of information and complement traditional intelligence-gathering techniques."
For more about lessons learned from Protect Wildlife, click here.