Ramping up Gender-Based Violence Prevention, Risk Mitigation, and Response
COVID-19 exacerbated gender inequalities and reversed hard-earned gains on everything from domestic violence, child marriage, and unemployment to food insecurity and poverty. Gender-based violence (GBV), in particular, saw a spike during the lockdowns and associated disruptions, to the extent that the United Nations proclaimed it a "shadow pandemic."
As the coronavirus pandemic shows signs of abating, now is the moment to press forward with initiatives that accelerate GBV prevention, risk mitigation, and response through national and market systems strengthening approaches. DAI-led programs in Mexico, Honduras, Iraq, and Uganda offer promising and replicable examples.
Prioritizing Survivor Safety
Ten women and girls are murdered every day in Mexico, according to Amnesty International. Indeed all forms of GBV—including rape, sexual assault, and domestic violence—are reportedly on the rise. Despite criminal justice reform efforts, progress has been slow and uneven at the national and state levels.
In May 2021, authorities and other stakeholders in the small western state of Nayarit launched an ambitious "100-Day Challenge" seeking ways to reduce impunity for serious crimes, including for domestic violence, while improving outcomes for survivors.
The U.S. Agency for International Development (USAID) ConJusticia project contributed by swiftly scaling up Alerta Naranja, a back-end technology solution developed with the Rapid Results Institute. In less than six months, Alerta Naranja cut the response time to domestic violence calls by half, from 42 to 21 minutes. With tech-enabled call history (by caller and location), Alerta Naranja provides a tool for 911 operators to identify and expedite responses to high-risk repeat cases.
"This [tool] has enabled the police to quickly intervene before the violence escalates and potentially results in femicide," said Luz Martinez, ConJusticia Investigation and Litigation Leader. Alerta Naranja improved confidence in the justice system, increased reporting of crimes, and enhanced the prosecution process, because 911 call records serve as evidence to demonstrate patterns of violence, resulting in stiffer sentences and more robust protection measures for survivors.
Strategic Prosecution
ConJusticia is also working to enhance the national government's capacity to prosecute high-priority crimes. It is strengthening state attorney general offices to step up prosecution rates for high-priority GBV crimes, and designing and testing approaches for better assessing risk, ensuring the security of survivors, prioritizing cases, and calculating reparations in the state of Sonora.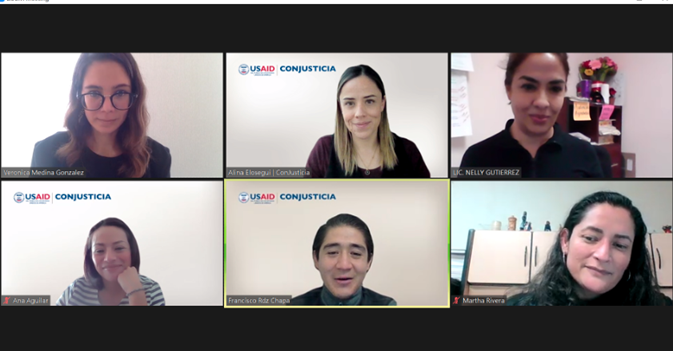 ConJusticia gathered in virtual working sessions with Coahuila's Attorney General Office to design a sub-policy within the criminal prosecution policy that will focus on GBV.
Meanwhile, in the state of Coahuila, ConJusticia is helping to develop GBV policies within the broader criminal prosecution framework. "Previously there were no guidelines, manuals, nor frameworks to consistently identify high-risk GBV cases," said Martha Rivera, head of the state's special victims unit. "Now as we institutionalize policy for handling GBV crimes and develop clear frameworks and protocols, we will certainly be more effective in prosecuting these crimes, prioritizing the safety of survivors, and working toward ending impunity for these crimes against women and girls."
Survivor-Centered Justice
On the dusty soccer field of Tegucigalpa's Villa Nueva sector, police officers look on as children bounce on a trampoline, play board games, and delight at the antics of stilted clowns and mimes. This is the setting for a concerted outreach campaign by the Honduran National Police Gender Unit, which led group dialogues on GBV, providing guidance on how survivors and women at risk can get help. Supported by USAID's Unidos por la Justicia, this community event was one of more than 270 community activities across 28 neighborhoods experiencing high levels of crime and violence.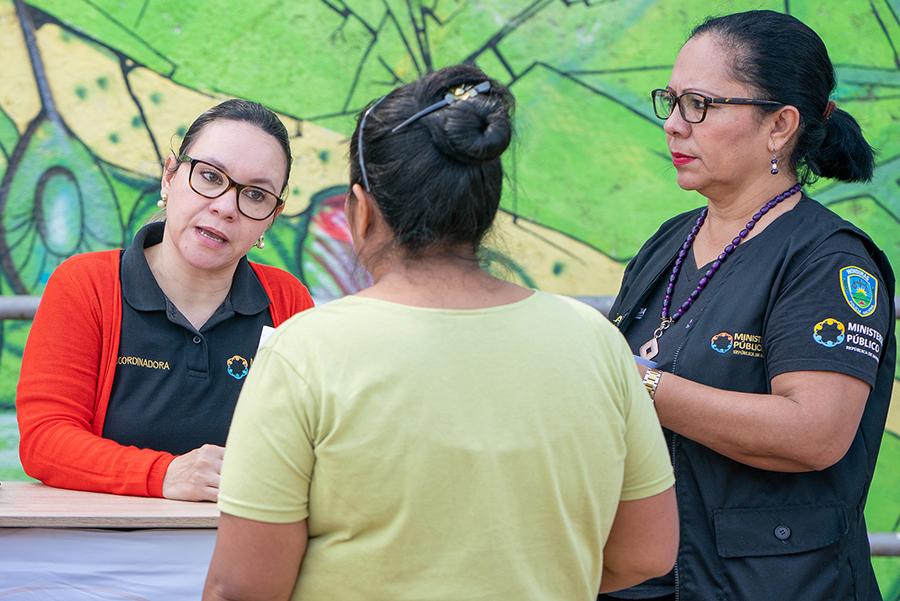 A prosecutor and a psychologist from the Special Integrated Service Module in Tegucigalpa provide a woman with information about GBV services at a community service fair organized by Unidos and the National Police. Photo: Dan Alder.
This kind of outreach has been instrumental in breaking down barriers hindering women's access to justice. "Broaching [the issue of] gender-based violence in public pushes cultural boundaries in Honduras," said gender specialist Isabel Ferrufino. "Many still believe that family violence is a private matter rather than a crime. With local police at the forefront of tackling GBV, this helps to bring an oft-hidden push factor for migration out into the open."
Unidos is systematically strengthening the delivery of survivor-centered justice services. Gender-sensitive protocols for handling GBV crimes and referring survivors to critical services have been incorporated into police training manuals, for example. One particularly welcome addition is the Gesell chamber, recently inaugurated by the Sixth Criminal Court in San Pedro Sula.
A Gesell chamber allows a witness to give direct, digitally recorded testimony to a court psychologist, while the judge and court officers observe through one-way glass from another section of the chamber. The Criminal Justice Center in La Ceiba recently inaugurated a Gesell chamber that was remodeled with Unidos' support, and the project is completing a video and operational guide to promote the use of such chambers nationwide. The chambers are used in GBV cases as well as cases involving crimes against children.
"This is a game-changer as it protects vulnerable witnesses from being retraumatized, while increasing judicial efficiency. About 70 percent of initial hearings using the Gesell chamber concluded with summary judgment, thereby avoiding protracted trials," said Oscar Aguilar, a Public Ministry psychologist and national coordinator of Gesell chambers in Honduras. "Before we had the Gesell chamber, a sexual assault survivor would be forced to give testimony 12 to 14 times during the course of a trial, which could last two years. Now it is just three times: when they file the complaint; to a forensic specialist; and in the Gesell chamber."
In the absence of the Gesell chamber, the traumatic toll of repetition, the effects of time on memory and, at times, pressure and intimidation exerted by relatives often resulted in a complainant's retraction or a judge's dismissal. Survivors of sexual assault and other GBV are no longer forced to testify in front of the defendant. This goes a long way towards reducing impunity for GBV crimes within homes and in communities.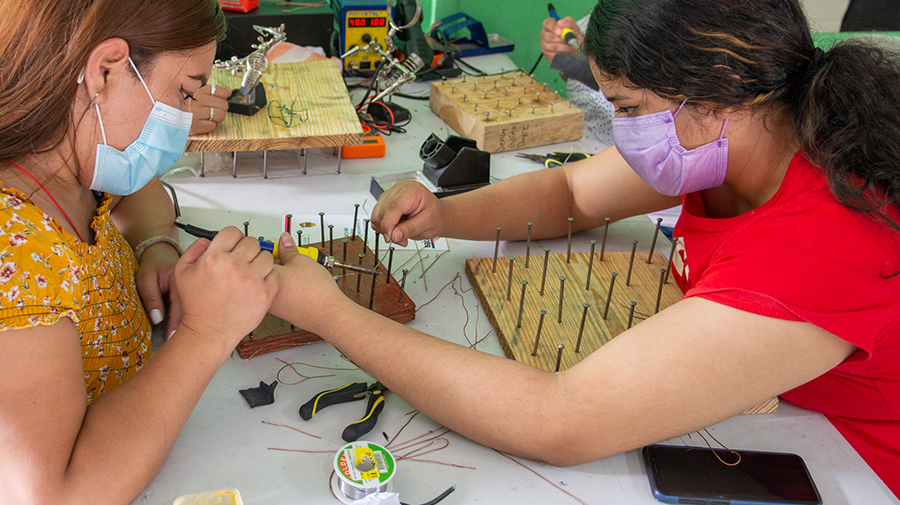 Young women from San Miguel take part in a vocational course on cell phone repair sponsored by community leaders and the National Police and facilitated by Unidos through an alliance with the Women's City service center. Photo: Dan Alder.
Unidos has taken concerted steps to close gaps in the multi-sector response to GBV. Convening law enforcement, other justice institutions, and civil society organizations, for example, Unidos facilitated joint action to identify and address systemic gaps, bottlenecks, and constraints and further strengthen the Critical Path for Attending to Violence Against Women, a coordinated framework designed to enhance services for survivors.
Unidos has empowered civil society organizations to provide 1,125 GBV survivors with psychosocial support and legal services, and bolstered local community networks across four cities to increase access to psychosocial and legal services. "We are weavers at Unidos, bringing together distinct organizations from civil society, from the justice sector, including the Judicial Branch, the Public Ministry and the police, to bring about a more just and secure society," said Unidos Chief of Party Caterina Valero.
Engaging Male Religious and Tribal Leaders
Recognizing the importance of mobilizing broader segments of Iraqi society to review and uphold a draft Anti-Domestic Violence (ADV) law, the USAID-funded Iraq Governance and Performance Accountability (IGPA/Takamul) project stepped up to the challenge. IGPA/Takamul and its partners identified key moderate religious and tribal leaders from Shia, Sunni, and minority religious groups throughout the country to provide inputs into the ADV draft law, in keeping with the values and principles of Islamic law.
"IGPA/Takamul and its partners facilitated locally led processes culminating in the incorporation of invaluable inputs from religious and tribal leaders into the draft law," said Mojeeb Stanikzai, DAI's MENA and Afghanistan Project Team Director. A total of 18 religious and tribal leaders joined the Advocacy Coalition and six religious and tribal leaders joined the broader IGPA-founded Coalition Coordination Group consisting of international and national stakeholders advocating for the passage of the ADV law.
Accelerating Women's Economic Empowerment
Poverty is a risk factor associated with GBV and, all too often, intersects with and reinforces gender inequality. As COVID-19 is projected to push 47 million women and girls into extreme poverty, the urgency of accelerating women's economic empowerment is acute. DAI programs around the world are working to catalyze broader women's economic empowerment while exploring opportunities to integrate GBV prevention, risk mitigation, and response strategies.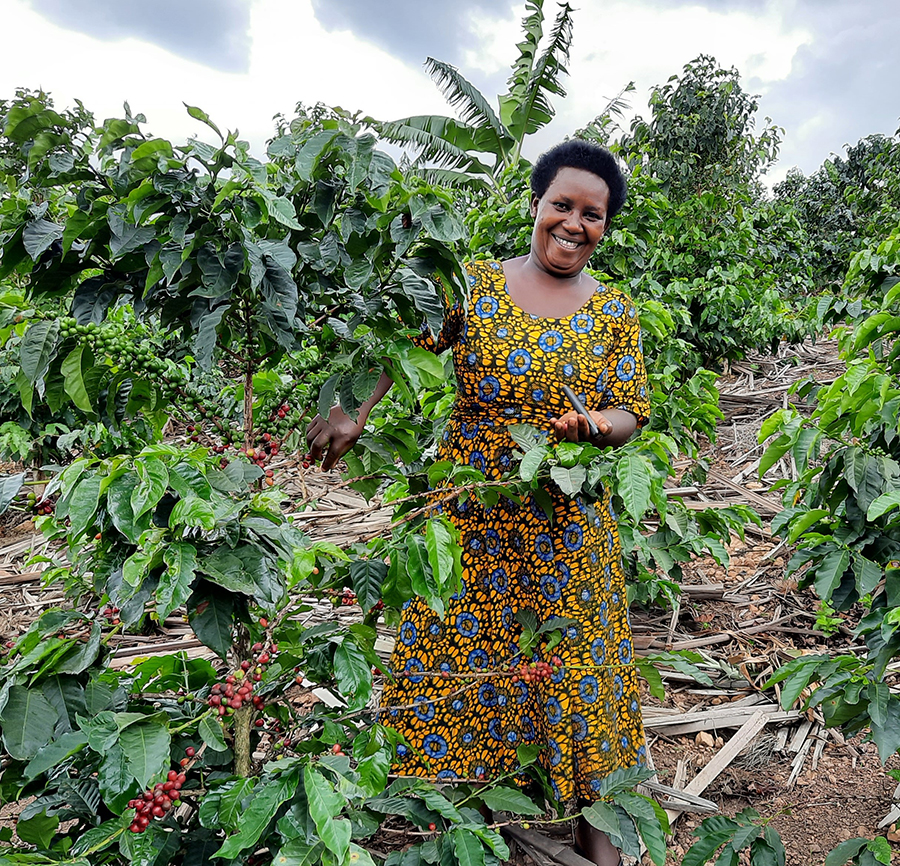 IAM activities integrate marginalized groups including women, youth, refugees, and host communities. Photo: Feed the Future USAID Uganda IAM.
In Uganda, for instance, taking a market systems development approach, USAID's Feed the Future Inclusive Agricultural Markets (IAM) project works to increase incomes and improve livelihoods in Uganda by promoting agriculture-led economic growth. With the aim of ensuring 60 percent of those benefitting from activities are women and 40 percent are young people, IAM activities integrate marginalized groups including women, youth, refugees, and host communities.
In response to GBV risks and violations extending from farms to firms, IAM has rolled out a GBV toolkit to mitigate the risks faced by women and girls, respond to incidents, and prevent reoccurrence. "GBV directly impacts productivity, reputation, and overall profitability of businesses," said Annet Namunane, IAM's Gender Equality, Youth Social and Inclusion Advisor. "In agricultural market systems, these negative trends caused by GBV have more far-reaching effects on women and [get] worse with the intersectionality of youth, refugees, and people with disabilities. Preventing and mitigating GBV is one surefire way of improving the agricultural sector."
Jane Kim is a Rule of Law and GBV Specialist.