Simple Solutions: Nutrition and Garden Training in Afghanistan Improves Food Security for Thousands
As in many developing countries, mothers and children in rural Afghanistan suffer from chronic undernutrition, often because they lack knowledge. Thousands of families in northern Afghanistan are now enjoying improved nutrition and food security thanks to work by a U.S. Agency for International Development (USAID) economic growth program.
Working in the rural provinces of Jawzjan, Balkh, Samangan, and Baghlan, the Regional Agricultural Development Program—North (RADP-North), implemented by DAI, has increased the percentage of households experiencing "acceptable" food security from 58 to 82 percent, and decreased those in the "poor" range from 17 to 3 percent, based on a survey of more than 1,400 beneficiaries.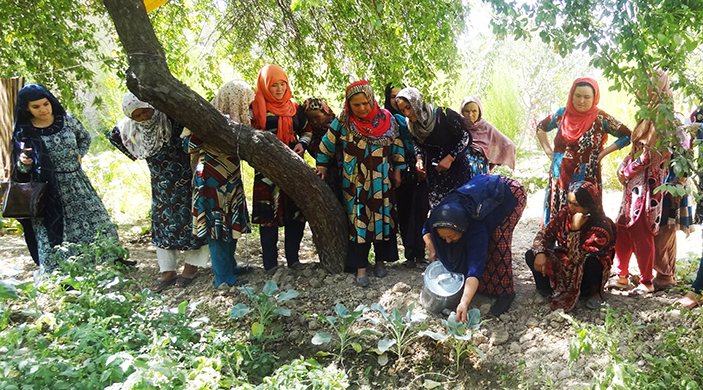 These improved outlooks for good health stem from women learning about basic nutrition and establishing vegetable gardens in their yards, which is expected to mitigate local health issues such as malnutrition, stunting, and low body weight, which particularly affect the region's babies and toddlers.
RADP-North was launched in 2014 as a five-year program to improve the sustainability and profitability of value chains for wheat, high-value crops, and livestock. Among other results, our team has helped increase the sales of target commodities by $22.8 million. But one of our proudest accomplishments might be the simplest: enlightening mothers in remote villages about nutrition.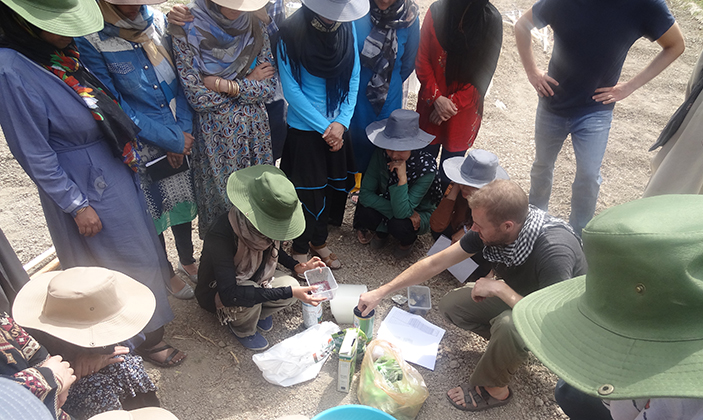 Learning About Vitamins, Minerals, and More
Only about one-third of Afghanistan's rural north is connected to the electrical grid, making its residents virtually cut off from the modern world. This has resulted in a broad lack of knowledge on how to address basic issues of nutrition and food. To complement our value chain work, RADP-North is taking a twofold approach to improving food security at the village level: nutrition training and kitchen gardens.
Rural Afghans struggle with poor nutrition in part because they do not know how to grow and prepare sanitary, nutritious foods for their households.
"The prevalence of micronutrient deficiencies such as anemia, iron deficiency anemia, vitamin D, Vitamin A [among target age-groups is] very high. Urgent attention is required to address these deficiencies"—Afghanistan National Nutrition Survey
In addition to a lack of nutritious foods, many Afghans suffer from water-borne diseases that deplete nutrients; these diseases frequently stem from household latrines and livestock located near water sources. Local people also lack an adequate understanding of germs and infection. Since most homes do not have refrigeration, insects and vermin pose constant threats to harvested and stored food.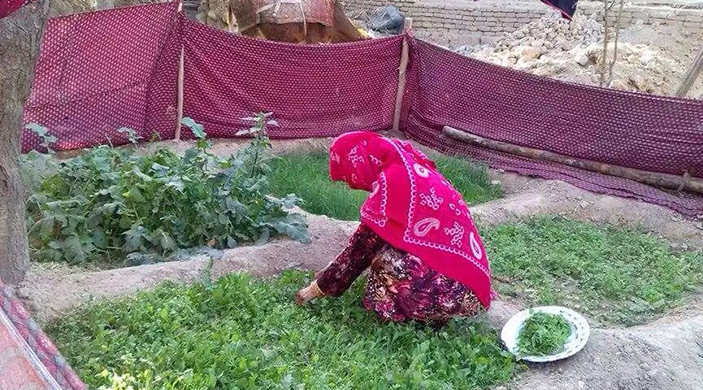 RADP-North designed a training package that is helping women incorporate healthy activities into their families' routines. Over six weeks, trainers teach a package of 10 lessons: good and bad hygiene, chain of infection, safe water, cycle of diarrhea, good and poor nutrition, food groups, mother and child nutrition, food preparation, wheat seed selection, and PICS storage (bags for perishable pulses such as chick pea and mung bean). We claim success when beneficiaries demonstrate an understanding of balanced diet, improve sanitary food preparation, increase handwashing, improve household sanitary practices, and establish proficiency in food storage, such as sealed storage of agricultural produce.
Over the course of RADP-North, we plan to enroll 13,000 women in our nutrition training. When this training quickly proved effective, the nongovernmental organization Global Partners approached us to propose a kitchen gardening grant that would build on the success of our nutrition training. We jumped at the chance to fund this activity as it would reinforce our training among up to 8,000 beneficiaries and further empower them to put that knowledge into practice.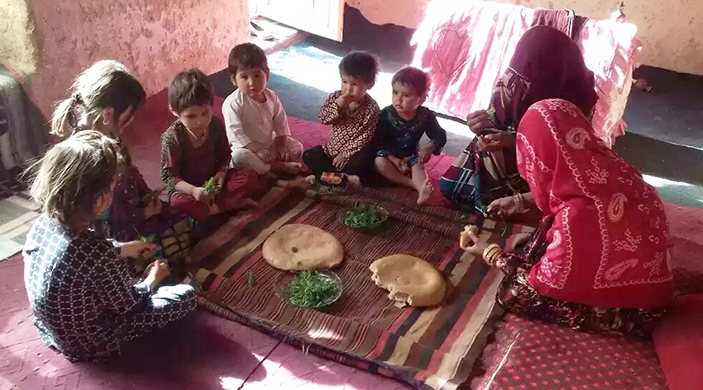 Kitchen Gardens Flourishing
In July 2016, RADP-North began this hands-on training through Global Partners, teaching 8,000 women to cultivate kitchen gardens and prepare and use compost and manure in small plots—roughly 20 feet by 20 feet—next to their homes. Nearly 1,600 women have enrolled so far.
Each woman grows her own kitchen garden during the training. In growing fresh vegetables, each woman is also creating potential income, which is important because most have never before been able or willing to pay for inputs such as seed and fertilizer.
Our training incorporates nine fall vegetables: alfalfa and mung beans (for soil), white radishes, turnips, spinach, watercress, leeks, coriander, and carrot. Spring season vegetables also include alfalfa and mung bean for soil, as well as tomatoes, hot peppers, okra, leek, red radish, spinach, and watercress. In addition to enriching their family's diet with healthy, home-grown vegetables and herbs, these women are:
Saving money by growing instead of purchasing.
Recycling and reusing waste resources—such as sweepings, kitchen scraps, and dirty water—in the garden.
Turning uncultivated land around their houses into productive property.
Selling surplus produce for small amounts of additional income to use for items such as school supplies.
These women will receive ongoing support from RADP-North in maintaining their home gardens, including home visits six months after course completion to check on progress. In Samangan province, a group of women showed their enthusiasm and appreciation by sending a written message to USAID saying: "Thank you USAID for this project."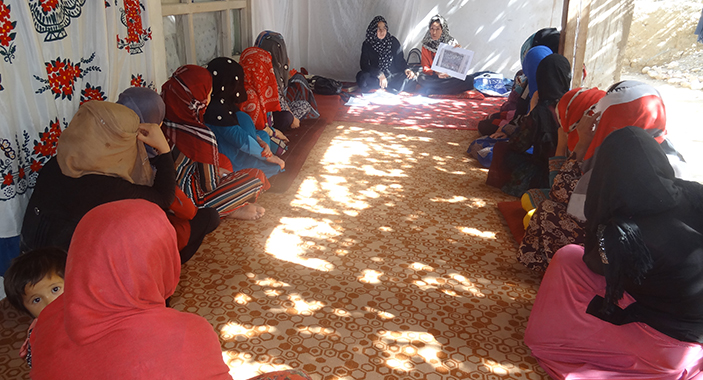 Respecting Women and Local Culture
When working with women in Afghanistan, it is critical to gain each village's permission. To do this, we work through Community Development Councils as well as indigenous "shura," gatherings of local leaders. Only after gaining permission is it safe to enter the village and train women. Working with CDCs and shuras to identify beneficiaries, RADP-North formed groups of women in villages throughout the four provinces.
We coordinate training directly with communities—making our intentions clear—and with the province's Department of Agriculture, Irrigation and Livestock. We also notify the Department of Women's Affairs of work that directly involves the women in its communities. Women train women; men never train women, at least not in villages. No photographs are taken of women, at least without explicit permission, and even then it is often of the back of their heads or when covered by a burqa.
Our RADP-North team approach reflects sensitivity to local gender attitudes and cultural nuances, which has helped make our nutrition and kitchen garden initiatives so successful. Adopting a culturally appropriate response has made the activity more likely to be embraced and adopted. For this reason, we are confident that improvements in health and nutrition in northern Afghanistan will endure after the funding for our training runs out.