Supporting Active Citizenship Across Pakistan
Danish Bibi was to be married off illiterate and homebound to a husband not of her choosing. Usman Ghani saw neighborhood children routinely die for lack of health services. Brothers Ishaq and Saleem feuded for years over the same plot of land.
These scenes play out over and over in Pakistan, and while the country boasts many qualities—world-class universities, a thriving technology sector, and a great roads system, to name a few—most of its 170 million citizens lack what many in the world take for granted: a say in how their communities are run.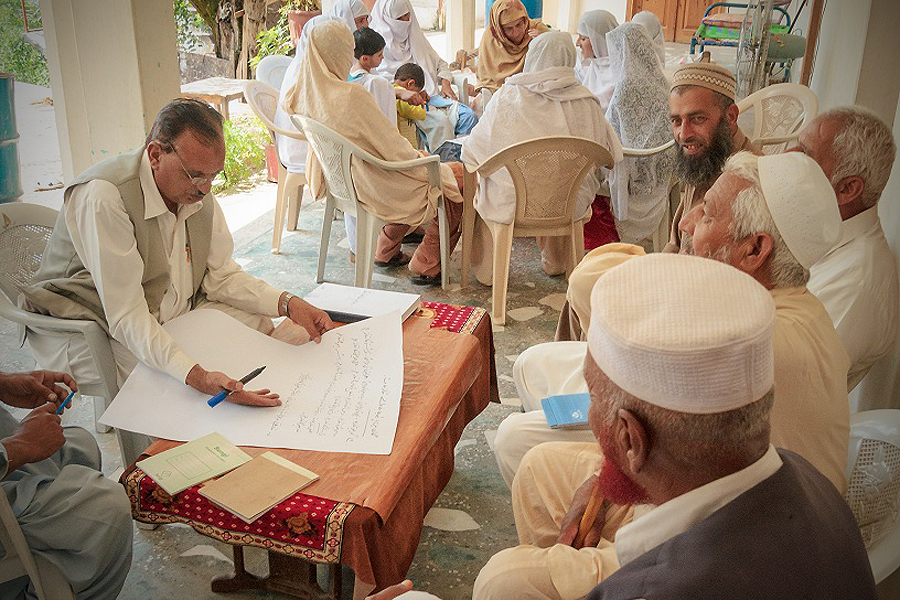 It is not for lack of trying. Thousands of Pakistanis advocate every day for improved public services and basic rights, but rarely is anyone in power moved to fight for decent schools and health facilities, or to address the concerns of children, religious minorities, and the poor, elderly, and disabled.
To amplify and channel the bottom-up demand for services and rights, the U.K. Department for International Development (DFID) in May 2013 launched the AAWAZ Voice and Accountability Programme. AAWAZ integrates and builds on the work of five of Pakistan's most esteemed civil society groups: Aurat Foundation, Southeast Asia Partnership-Pakistan, Strengthening Participatory Organization, Sungi Development Foundation, and Sustainable Development Policy Institute.
Operating in Punjab and Khyber Pakhtunkhwa provinces, which cover one-third of the country and two-thirds of its people, AAWAZ is welcomed by many of Pakistan's time-honored institutions. Headquartered in Islamabad, it has already taken root at administrative levels in more than 5,000 communities and reached 350,000 households with messages of change, including to:
Make democratic processes at all levels more open and accountable.
Promote the peaceful and fair resolution of local disputes;
Increase involvement in civic and public services by women, girls, and other excluded groups; and
Collect data about empowerment and accountability to underpin policy in Pakistan and contribute to local, national, and global debates.
Building The Grid
To empower average Pakistanis to work together to raise their voices cohesively and effectively, our first months called for a large-scale mobilization of communities. This first required securing the right personnel at each level and training project staff—more than 300 in total—in the goals, targets, desired impact, and timeline of the project; its management structure, financial oversight systems, and discipline; and the due diligence necessary to prepare grants and contracts.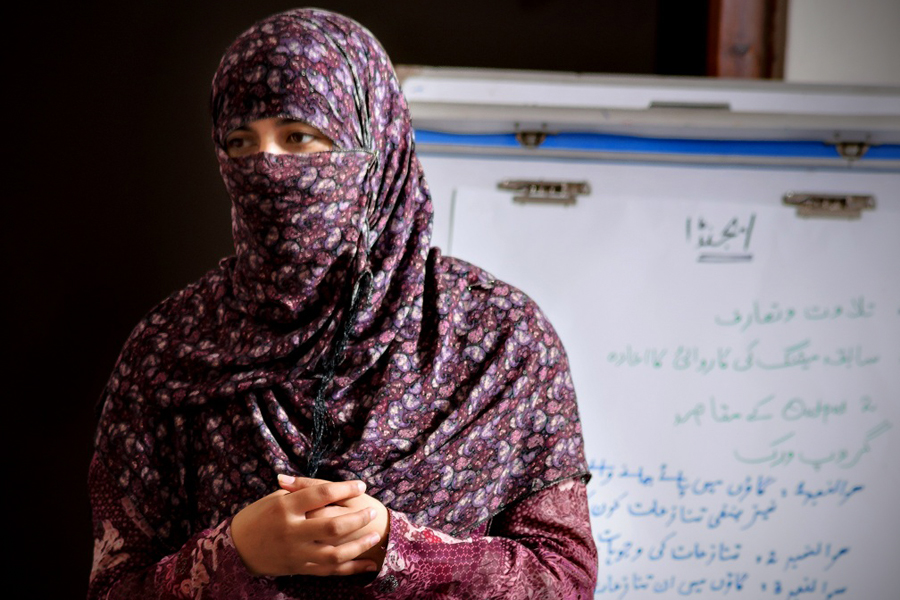 To ensure smooth operational delivery, the DAI-led management office developed operations manuals in finance, human resources, procurement and inventory, and security. After consultation with DFID and our partners, we formed the AAWAZ Steering Committee and AAWAZ Advisory Council; the committee ensures the program stays on course, while the council aids in this oversight through guidance and expert opinion.
Our team and partners then initiated AAWAZ forums at each of the provinces' administrative levels, including the village (more than 5,000 forums), union council (450), and district (45). At each level, we ensured the participation of a large number of women and members of excluded groups. Here we discussed the constitutional rights of women, their role in national politics, gender-based violence, anti-women customs/traditions, forced marriages, the Domestic Violence Bill, child marriages, and inheritance laws, among other law and justice topics.
Less than one year after project launch, 420 centers at the union council level are operating fully and disseminating information and sharing knowledge locally. On average, 25 to 35 AAWAZ constituents, including women, visit these centers daily.
AAWAZ also helps to open doors for broader participation in government and politics. For example, to assist women to register as citizens and claim their rights, AAWAZ village forums conducted a campaign to distribute Citizen's National Identity Cards. More than 16,000 women were registered—5,349 in Punjab and 10,839 in Khyber Pakhtunkhwa. AAWAZ forums mobilized and encouraged 1,446 women to submit their nominations for local government elections.
AAWAZ activities have also shown results in terms of peaceful dispute resolution. In our first year, more than 3,000 disputes were identified, of which 1,840 were resolved by AAWAZ village forum members. Some 388 potential conflicts—mostly related to sectarian, interfaith, and ethnic issues—were pre-empted and defused. Similarly, 1,415 issues were identified regarding health and education, 643 complaints were registered, and 312 were resolved.
To capture what we are learning, AAWAZ established the analytical groundwork for further progress by collecting baseline information to support 19 selected indicators (see above). This data will enable us to measure our progress, identify which work is succeeding or not, and adjust accordingly.
As the five-year AAWAZ program begins year two, we are confident these indicators will reflect year-on-year increases in public participation and government response but also inform AAWAZ decision making—and even global debates—on voice and accountability for years to come.