Supporting the Transition to Peace in Sri Lanka
When armed conflict in eastern Sri Lanka ended in 2007, the Government of Sri Lanka was afforded an opportunity to begin repairing the damage. Two years later when the government captured the last-remaining stronghold of the Liberation Tigers of Tamil Eelam in the north, the 26-year civil war finally ended, promising better days ahead and the hope for lasting peace. Shortly thereafter, the U.S. Agency for International Development (USAID) launched the Reintegration and Stabilization in the East (RISE) project to prepare communities in the most conflict-affected areas in the east for the changes peace would bring, including the eventual reintegration of former combatants back into their villages.
Just six months into the project, identifying an opportunity for broader transition and consolidation of peace, RISE was transferred to USAID's Office of Transition Initiatives, and by June 2010 operations were expanded to the north and the project was renamed RISEN.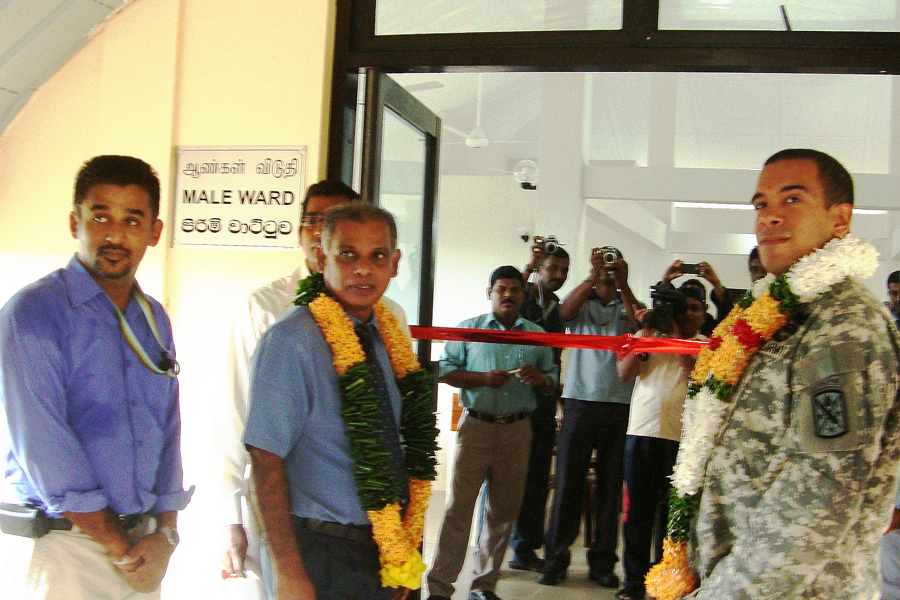 For more than four years, RISEN worked with civil society and local governments to restore communities and relationships and bring together majority Sinhalese and minority Tamils around shared goals. Almost exclusively Sri Lankan, the RISEN team implemented 267 grants valued at nearly $14 million to invigorate war-weary communities. Given Sri Lanka's evolving political dynamics and varied conflict drivers, RISEN continuously responded to interethnic conflicts, natural disasters, and historic events such as the first-ever Northern Provincial Council elections.
Desperate Situation
The situation facing RISEN in the conflict-affected north and east was constantly evolving. In the east, where active conflict had ceased two years earlier, the military remained present in all aspects of life. In the north, too, the military kept a tight handle on the comings and goings of all citizens, including RISEN staff and partners. Displaced people began returning home even as the removal of land mines continued in residential areas. The military frequently meddled in and even blocked reconstruction work.
At the same time, the government began releasing some Tamil Tiger combatants while retaining others in "protective custody." Families demonstrated over the lack of information on loved ones and their whereabouts; community members demanded that their schools, occupied by detained ex-combatants, be returned to public use.
Floods in early 2011 decimated the agricultural sector, with two-thirds of the population of the eastern district of Batticaloa—380,000 people—and another 50,000 in the north displaced to welfare centers or to live with friends and family. In the north, where more than 80 percent of the people relied on agriculture for their livelihoods, the loss of highland crops and paddy harvests wounded the already weakened economy and sparked food shortages and price spikes.
Fears of "Sinhalization," a wartime policy of settling traditionally Tamil or Muslim areas with Sinhalese, were fueled by the militarization of war-affected minority communities, construction of Buddhist temples on sacred Hindu sites, and the seizure of farmland and other areas designated as "high-security zones."
Building Peace
Post-conflict communities were unable to offer much to young people and families and ill-prepared to receive a flood of ex-combatants. RISEN staff responded by identifying social gaps in municipalities and outlying villages, and issuing grants that empowered local governments, groups, and businesses to deliver products and services quickly to these communities.
Through its extensive network of partners, RISEN was able to design, develop, and implement a range of community improvement projects, always seeking to build cohesion and often having to outmaneuver unsupportive authorities. From Jaffna in the north to Ampara in the east, RISEN's initiatives served to improve livelihoods, based on food storage, agriculture, and fishing; increase access to clean water and health care; build community infrastructure such as markets, playgrounds, and solar-powered street lights; and organize social events such as sports matches.
Fishing Together
RISEN staff were continually on the lookout for potential flash points and opportunities to bring people together. One came in the communities along the Kokkilai Lagoon. Separating the Northern and Eastern provinces, the lagoon's shores are home to nearly 450 families, split evenly between Sinhalese and Tamils. Many were displaced during the war, and tensions flared when families began returning in 2009, often over the rights to fishing, the area's main livelihood. Engaging both communities, RISEN helped them develop a lagoon management plan to ensure a fair distribution of income from the shared resource.
Today, neighbors interact and move freely throughout the area. The Sinhalese, who used to travel by boat to the Muslim village on the other side of the lagoon for basic groceries, now shop at the Tamil-owned store closer to home. Similarly, the formerly segregated Sinhalese and Tamil schools began engaging in sporting events. Perhaps most dramatically, the two fishing societies merged.
"After these programs, both our communities became closer," said M.M. Ganga Kumari, a member of the Sinhalese fisheries cooperative. "Before the program, it was as if an invisible line was drawn between the two ethnic groups and no one would cross into the other's area."
Partnering With U.S. Military
In 2008, once tensions in the east had subsided, U.S. Pacific Command (PACOM) committed funding and expertise from the Army Corps of Engineers to rehabilitate schools and health facilities, with RISEN's support. In all, PACOM implemented 18 activities valued at $1.7 million.
In November 2011, for example, PACOM helped hand over a three-ward medical complex to local district authorities. The 72-bed complex—male, female, and maternity wards—is now operated by the Karadiyanaru Divisional Hospital in Chenkalady, Batticaloa District, and caters to 60,000 local residents. RISEN staff organized and oversaw construction contractors and facilitated agreements between hospital and ministry of health officials and local community leaders to keep the new facilities well managed and resourced.
"Good health care services help create a safe and secure environment," Army Captain Daniel Gomez said at the event. "Once their health care needs are taken care of, communities can go on to improve other aspects of their lives, including basic livelihoods."
Casting Votes
The provincial system in Sri Lanka was put in place by the 13th amendment in 1987, at a time when devolving police and land powers to the Northern Province was inconceivable to the Government of Sri Lanka. During wartime, the Northern and Eastern provinces were combined and no real power was devolved. It was not until September 2013 that Northern Provincial Council elections were held for the first time.
Through partnerships with three local organizations—Campaign for Free and Fair Elections, the Centre for Human Rights, and Home for Human Rights—RISEN helped citizens understand why and how to vote, enabled many to acquire the identification documents required to do so, and ensured their trip to the polls would be observed by trained, non-partisan monitors. RISEN engaged tens of thousands of people in interactive voter education, and enabled nearly a quarter of all registered voters lacking a valid ID to secure the documents they needed to vote. Voters in the Northern Province contributed to a countrywide Election Day turnout of 68 percent.
"I'm proud to say that [the RISEN project] brought immense awareness among the people in my division," said N. Ambikabalan, a politician in Kilinochchi. "Some people who haven't registered themselves in the voters list registered their names, and some people who [are] eligible for voting and don't have a national ID applied for one."
Justice For Sexual Assault
Under the Sexual Assault Forensic Evidence (SAFE) program, funded by the U.S. Department of Justice to improve prosecution of sexual violence, RISEN worked with medical and legal professionals to create a low-cost forensic evidence collection kit, distributed 4,500 of these "rape kits" to all 39 government hospitals, trained 136 medico-legal offices in 8 districts, and provided additional resources to the country's public universities and medical faculties.
One of SAFE's lasting legacies is the introduction of victim-friendly approaches. Previously, sexual assault victims were not asked for their consent before being examined, and often medical examiners would proceed against their will. SAFE worked with the government to include a victim consent section on the national Medico-Legal Examination Form. Notably, the Ministry of Health has asked for funding for more kits in its annual budget.
Legacy And Headwinds
As RISEN entered its final year, the situation in Sri Lanka worsened. Initial hopes for a reduction in militarism and a more inclusive peace were all but dashed as the government increased its military presence and restricted the ability of community groups, civil society, media, and others to function freely.
At the same time, the external support for RISEN partners began to decline. The end of post-tsunami support, a reduction in post-war assistance, the global economic crisis, Sri Lanka's graduation to middle-income status, and the Government of Sri Lanka's increasingly strained relations with the international community all took their toll.
In light of this dwindling international assistance, RISEN redoubled its efforts to prepare communities, partners, and change agents to continue their work beyond the project's departure. RISEN developed products for our partners to continue their work in reconciliation—including catalogs, videos, websites, and tools—and distributed them to grantees, local government and nongovernmental partners, and donors. For example, in partnership with the Centre for Policy Alternatives, our public expenditure tools facilitate transparent fiscal administration. Our videos Road to Peace, Best Practices in Reconciliation, and Best Practices in Youth Programming were widely distributed, and our national Civil Society Directory and website, developed with the Centre for Human Rights, was distributed in print and included in an associated website, lankango.org.
RISEN's impact will live on through its partners, its grantees, and not least through its Sri Lankan staff, whose remarkable commitment, creativity, and courage have done so much to build a foundation for enduring peace in their country.