Turning Restrictive Social Norms in the Middle East into Job Opportunities for Women
When deep-rooted social norms appear to limit the roles of women, one of the best tactics we can take in development assistance is to look for opportunities to turn those norms to women's advantage.
A recent example is in the Middle East, where our U.K. Department for International Development-funded Arab Women's Enterprise Fund (AWEF) is assisting female-led value chains. In Palestine, AWEF is working with female sheep herders in rural areas to train these women as paraveterinary workers. A paravet functions like a veterinary assistant, nurse, or animal technician by providing basic but important treatment and testing for herds.
Palestine has approximately 30,000 sheep herds, with an estimated 25,000 women playing active roles in their operation, especially among small herds of 35 or fewer animals. But AWEF's analysis shows that the women-led herds suffer close to 30 percent productivity loss due to poor vaccinations and inadequate animal health care. Because most veterinarians are male, and gender mixing is discouraged, female herders cannot partake in veterinary services provided by men.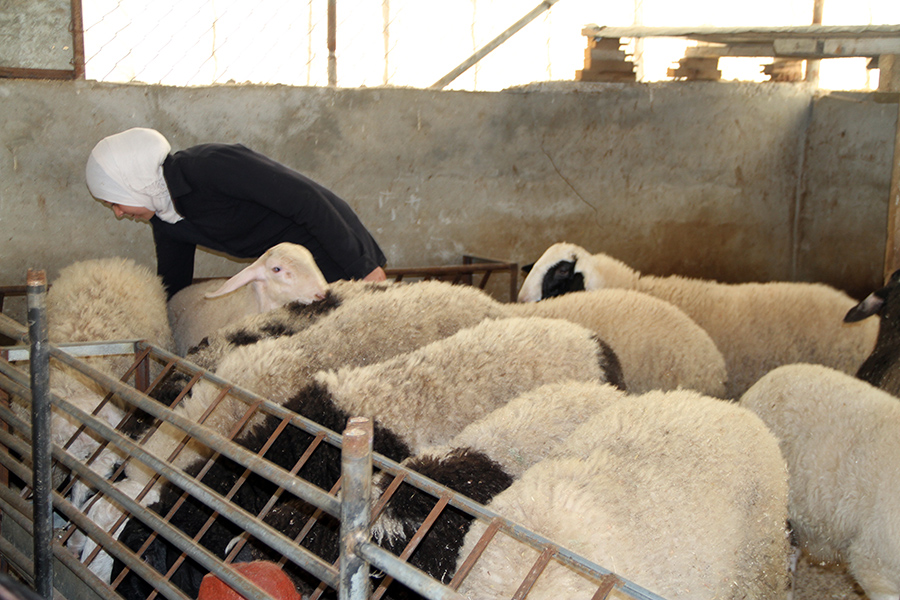 Training a Cadre of Female Paravets
Seizing the opportunity inherent in this restricted market, AWEF and its partners are training a cadre of 20 female paravets to provide much-needed services. These services improve the health of female-led herds as well as the incomes of the herders. Additionally, the female paravets are gaining the respect of their communities, earning more money for their families, and acting as role models for other women. By interacting directly with female paravets, Palestine's women herders are learning about animal health care and improving their skills, instead of relying on their husbands or other men in their families who are too often ill-informed on herd health needs.
Traditionally, women rarely held authority to make decisions around this family business. Social norms constrained their interactions with veterinarians, traders, and the male-dominant herding community. But as women paravets increase their services, it is anticipated that female herders will assume a greater sense of ownership and commitment to their traditionally unpaid work. Eventually, female herders will increase their capacity to manage herds and improve women's overall role in livestock management.
Men in these communities will also benefit because female paravets' services will add to household incomes while reducing or eliminating the expense of seeking assistance from veterinarians, whose clinics are often located far away from small villages.
Extending Herd-Care Services in Afghanistan
Training women as paravets is also bearing fruit in other DAI-led projects. The U.S. Agency for International Development-funded Regional Agricultural Development Program-North (RADP-North), for example, trained 15 paravets (10 men, five women) in 2016, filling an important need for livestock owners. Trainees were equipped with tools and equipment to establish veterinary field units in the communities they now serve. RADP-North is on schedule to train another 20 paravets through 2017.
One of RADP-North's female trainees, Fatima, provides veterinary services to more than 500 farmers in 12 surrounding villages—encompassing more than 2,000 animals—while earning AFN 600 to 800 per day. "Recently, a woman called me and said that she had a newborn calf that was sick," Fatima said. "I traveled to the area, checked the calf, and found that the calf was highly dehydrated due to acute diarrhea. The woman was so concerned about losing the calf, but I medicated the calf by injecting some vitamins, and within an hour, the calf began to improve. The woman was so happy and thanked me for saving her calf."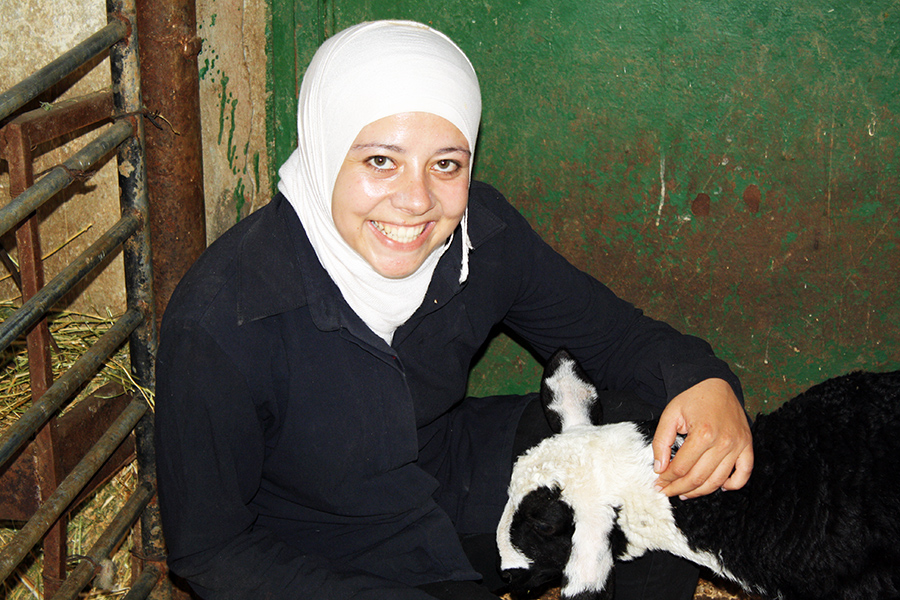 Earning Acceptance Among Men
In Palestine, Aya Mletat, a 30-year-old mother of two, established her own sheep farm at age 20. Today, Mletat trains and mentors both male and female herders in her community. According to Mletat, men who refused to deal with her at first have now accepted her consultations after seeing her paraveterinary skills in action.
AWEF is finding opportunities within a culture of "constraints" in other Middle Eastern countries. In Jordan, AWEF is training women who run dairy-processing outfits to meet the standards required for local regulatory certification of their dried yogurt. This training helps these female-led small businesses to improve the quality of their products and increase sales in male-dominated markets. In Egypt, AWEF is teaching large businesses in the garment and citrus sectors to recruit women for positions—including senior and management roles—where the work and interactions would be culturally permissable.
DAI's Nandi Hall, the AWEF project director, said the team's underlying goal is to identify social norms that open windows of opportunities for women.
"AWEF believes that social norms can shift when people begin to experience the economic benefits of new behaviours," Hall said. "We hope to provide the opportunity for other women in traditional roles to be more encouraged to explore new roles by viewing social norms in a new light."