USAID Projects Work Together to Bolster Trade between Pakistan and Central Asia
Despite their proximity, South and Central Asia are among the least economically integrated regions. Intraregional trade is estimated to be between 0.2 and 4 percent of their total trade to all destinations—significantly below regional trade in Africa, the Middle East, Latin America, and Southeast Asia. Most of the countries in the two regions have traditionally focused on economic relationships with North America and Europe. Studies show that if these regions—which are rich in natural resources—boosted intraregional trade, the total value could potentially double, benefitting both regional economies.
Pakistan—at the crossroads of South Asia, Central Asia, and West Asia—sits at the heart of this opportunity. Through its seaports in Sindh and Gwadar, it offers the shortest transit routes to the Arabian Sea for landlocked Central Asian republics and West China. However, Pakistan's connectivity with Central Asia has been stymied by poor infrastructure, limited customs facilitation at border crossings, problematic security along transit routes, and a lack of political will. Few institutional arrangements facilitate affordable and timely transit across the countries in this region; in fact, it costs about the same to ship goods from Pakistan to North America as it does to send those same goods to Central Asia by road.
However, developing countries increasingly realize the need to leverage regional economic potential, and we have seen a gradual development of logistical infrastructure between Central Asia and South Asia. The stirrings of political will are also evident: by 2015, all the Central Asian republics, China, and the key transit hubs of South Asia (Pakistan, Afghanistan, India) and West Asia (Iran, United Arab Emirates, Saudi Arabia) had acceded to the Customs Convention on the International Transport of Goods under Cover of TIR Carnets (TIR Carnet).
This convention facilitates the international carriage of goods among contracting parties under an international guarantee chain managed by the International Road Union (IRU); it means that a consignment of goods carried under a TIR guarantee—or carnet (pronounced kar-nay)—from a country signatory to the Convention can transit through and reach other signatory countries under standard customs protocols and without intrusive inspections by authorities along the route. A standard custom protocol for treating transit goods under TIR Carnet should reduce time and cost at border crossings along the route. TIR is widely used for international transit of goods in Europe, the Middle East, and Asia, and is being rapidly adopted in Afghanistan and the Central Asian republics, which are all parties to the Convention.
Pakistan acceded to the TIR Convention in July 2015 and was declared as a TIR operational country by the IRU in April 2018.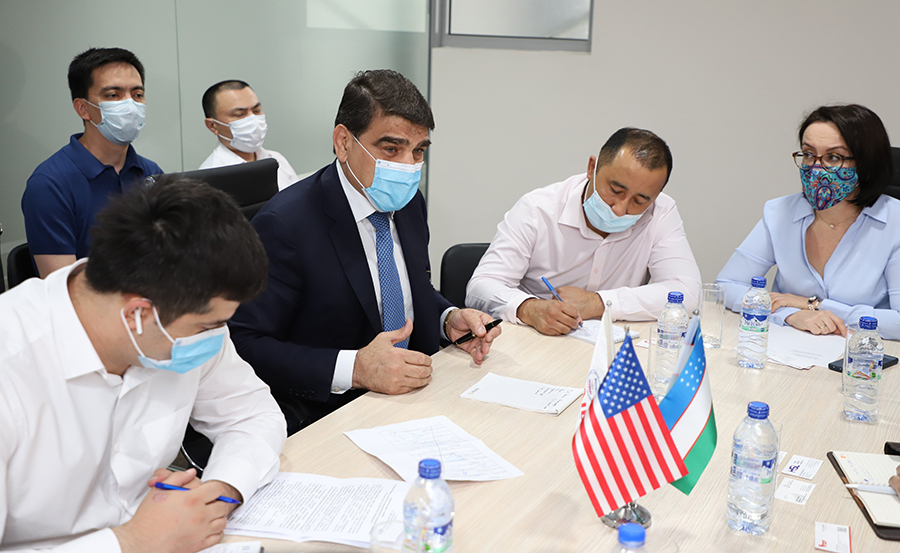 Photo: USAID CTJ.
Cutting the Red Tape
Studies indicate that just one extra day in transit reduces trade by more than 1 percent, so reducing handling delays is likely to substantially increase trade and transit volume between Pakistan and its regional neighbors, including the Central Asian republics. Currently, goods transiting through Pakistan and destined for Central Asia are treated as coming from the intervening country, Afghanistan, and as Afghan imports by Pakistan Customs, which therefore makes them subject to the provisions of the Afghanistan-Pakistan Transit Trade Agreement. Such goods are effectively "re-exported" from Afghanistan and may often require multiple changes of transport units due to the absence/non-enforcement of bilateral and multilateral road transport agreements. These extra steps increase the time and cost of crossborder trade because transshipment may necessitate intrusive customs inspections and guarantee mechanisms for each country en route, increase the administrative and regulatory burden on customs and other regulators, and distort national trade data.
TIR offers a viable alternative by simplifying, harmonizing, and streamlining customs transit and guarantee procedures at borders. Successful implementation of the TIR system will introduce efficient customs procedures for managing traffic by means of an international single guarantee. However, since the TIR system is still in its early development stage in Pakistan, many stakeholders in both public and private sectors lack experience, knowledge, and understanding of TIR procedures and compliance. To date, there is only one transport company registered in Pakistan as a TIR operator, and no commercial transit consignment has yet moved from Pakistan under TIR carnet.
How USAID is Helping
The U.S. Agency for International Development (USAID)-funded Pakistan Regional Economic Integration Activity (PREIA) has supported the operationalization of TIR in Pakistan since 2015. Our team has assisted Pakistan Customs in developing the regulatory and operational framework for TIR; built the institutional capacity of the TIR Carnet issuing authority—the Pakistan National Commission of International Chambers of Commerce (PNC-ICC)—to manage TIR carnets and administer the registration process; and supported public-private sector consultations to monitor progress.
To help demonstrate the viability of TIR and unravel the regulatory, infrastructure-related, and institutional impediments along the transit routes, PREIA designed a set of pilot TIR operations to be conducted by TCS Logistics, the only transport company currently eligible to transport goods from Pakistan under TIR Carnet.
PREIA also worked with another USAID project—the Central Asia Competitiveness, Trade, and Jobs activity (CTJ), also led by DAI, to organize business-to-business and business-to-government meetings between TCS Logistics and the stakeholders in the respective destination countries of the pilot shipments to explore opportunities to leverage transit and trade routes between Pakistan and the Central Asian republics.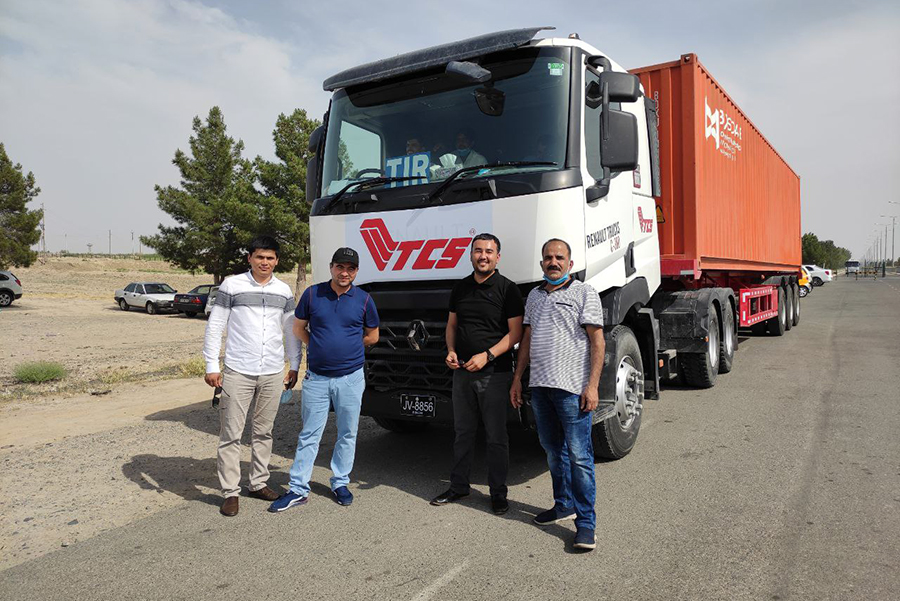 Photo: USAID CTJ.
The first pilot consignment was initiated this year, when a cargo of herbal medicines departed Karachi on April 28 and arrived in Tashkent, Uzbekistan on May 4 via the Karachi-Kabul-Termez route. Of these eight days, it took only two days to cross Afghanistan and reach Uzbekistan.
"We would like to express our profound thanks for PREIA's support for conducting the TIR pilot from Pakistan to Uzbekistan carried out by TCS under the TIR framework," said Tariq M. Rangoonwala, Chair, PNC-ICC. "We are now in the process of finalizing admissions for seven more TIR applicants for whom it will become easier to initiate their own operations as a consequence of your support for conducting the five TIR pilots the first of which has now been realized."
This pilot demonstrated that under TIR, trucks from Pakistan could traverse Afghanistan without offloading the consignment to Afghan trucks, implying savings in cost and time related to transshipment en route. The pilot also showed that the Pakistani TIR operator could haul return cargo from Uzbekistan to Pakistan, indicating opportunities for logistical economies of scale.
The pilot underscored several areas for improvement: visa policy for drivers of trucks carrying consignments under TIR needs to be facilitative; infrastructure for drivers en route needs to be developed; customs' timings at the borders must be harmonized among neighboring TIR countries; and TIR training is required for customs personnel.
The Karachi-Kabul-Termez pilot is the first of five planned trial runs through Afghanistan and China aimed at testing the viability of various routes for international transit to the Central Asian republics and beyond under the TIR Convention and documenting the operational and logistical challenges during the journey. With our partners TCS Logistics and CTJ, we hope to provide impetus to operationalize the TIR system for movement of trade and transit cargo between Pakistan, the Central Asian republics, and beyond, via Afghanistan and China.
Our ultimate goal is promoting institutional and business linkages and networking for future TIR operations, leading to enhanced intra-regional trade and transit connectivity.
Hussan-Bano Burki is Chief of Party for PREIA.