When "Business as Usual" is not Good for Business: Afghanistan-Pakistan Trade in the COVID-19 Era
Through a combination of laser-focused tactical interventions and support for rapid trade policy reform, the Afghanistan Value Chains-High Value Crops (AVC-HVC) project, funded by the U.S. Agency for International Development (USAID), is enabling the Afghan government to address longstanding trade policy and trade logistics challenges, which for decades have limited the country's export competitiveness.
In a globalized economy, trade is an essential condition for survival and growth. In fragile states, trade disruptions can easily cripple countries, create deep and lasting wounds in the economy and the social fabric, and even reverse gains in economic development.
In Afghanistan—19 years after the deployment of foreign assistance—there is now an emerging and strong private sector led mostly by large, resilient firms, most of them exporting unprocessed agricultural products.
Complicated Trade Routes
To be sure, the country is still struggling to build an economy based on licit agriculture, mining, light manufacturing, and services. Due to the fragility of its institutions, coupled with infrastructural and geographic disadvantages, trade has been anything but stable. Landlocked Afghanistan's exports only have three possible routes: 1) the ports of Chabahar and Bandar Abbas in Iran, 2) the northern corridor through Central Asia, and 3) the borders with Pakistan, which provide access to India and the rest of the world through the ports of Karachi and Gwadar. The Iranian ports, which provide low-cost and convenient routes to the Gulf and Europe, are currently under international sanctions. And while the northern corridor provides access to markets in Central Asia, the European Union, China, and Russia, it does so at costs that often undermine the competitiveness of Afghan produce. More recently, a survey conducted by AVC-HVC shows that the COVID-19 pandemic has increased shipping costs through this route by 40 percent. Thus, Pakistan, which for decades has constituted the main route to India—Afghanistan's long-time trading partner—and to the port of Karachi, is the most viable outlet for Afghan exports at present.
While Afghanistan's exports grew significantly between 2015 and 2019—from $800 million to $2.24 billion—there was a significant shift in both the composition of exports and countries of destination. Exports of high-value agricultural products grew from $354 million to $538 million, at an average growth rate of 13 percent per annum, while precious minerals now account for 49 percent of the value of exports.
Pandemic Reveals Deeper Trade Issues
COVID-19 exacerbated an already dire situation. In March 2020, Pakistan unilaterally closed all border crossing points with Afghanistan due to perceived biosecurity risks. This measure literally and figuratively choked Afghanistan's nascent agro-processing industry, as well as trade in fresh produce. Firms left with inventories exceeding $100 million shed some 12,000 jobs, constituting yet another setback for the growth of licit agriculture in Afghanistan.
According to Pakistani officials, Afghanistan's lack of compliance with COVID safety protocols—including the disinfection of vehicles and cargo—was the main impediment to Pakistan reopening its borders to Afghan exports. Unfortunately, Afghanistan had only been able to assign a two-person disinfection crew at each border post, spraying a chlorine solution of unverified concentration and without a proper system. This enraged Pakistani drivers, who felt unprotected against coronavirus infections and also gave the Government of Pakistan a reason to deny the entry of Afghan products both in transit and for sale in Pakistan.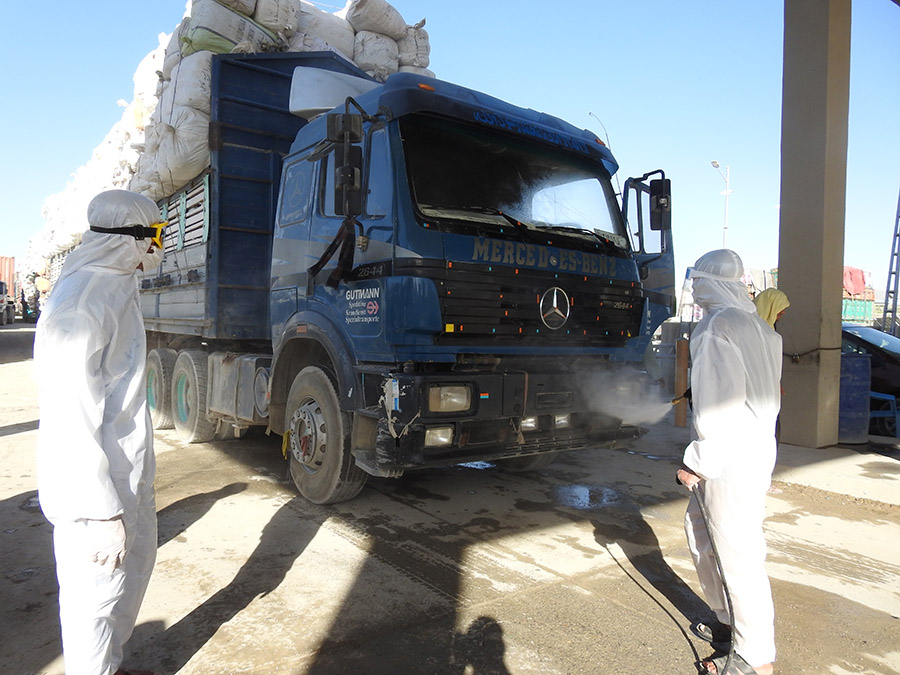 AVC-HVC-trained personnel spray trucks entering and leaving through Torkham port in June 2020.
Considering the vital importance of opening borders to trade, AVC-HVC joined forces with Harakat, a nongovernmental organization that works to improve the business-enabling environment. AVC-HVC provided Harakat with the technical and financial resources to hire two disinfection brigades of 24 people each, to be posted at the two main border crossings at Torkham and Spin Boldak. The project's technical team trained and equipped both brigades to provide full-time disinfection services for an initial three months. Additionally, AVC-HVC established a temporary container transshipment facility at the Torkham border, providing free services to transfer containerized cargo from Pakistani to Afghan trucks. The disinfection and transshipment services were rolled out on June 20, 2020, and on June 22, Pakistan opened its borders to Afghan exports, which was celebrated in the Spin Boldak and Torkham borders by representatives of the private sector and local and national government.
Shortly before the end of the three-month period, Pakistan eliminated the requirement for biosecurity measures, and trade continued as usual. However, when it comes to Afghan-Pakistani relations, "business as usual" is not necessarily good for business. Ad hoc border closures, the arbitrary application of regulations and processes, and harassment of drivers were again commonplace.
Supporting Afghanistan to Negotiate Trade Policy
Following the re-opening of borders, a meeting in Pakistan in October 2020 gave impetus to the discussion about extension of the Afghanistan-Pakistan Trade and Transit Agreement (APTTA) beyond its original end date of February 11, 2021. The APTTA is a 58-article "contract" with three purposes:
Allowing two-way transit of goods between Afghanistan and the Port of Karachi.
Allowing one-way transit of Afghan goods between Afghanistan and the Wagah Border Crossing Point with India. Pakistan has objected to two-way transit for decades.
Facilitating two-way transit of goods between Pakistan and the Central Asian Republics through Afghanistan.
The current version of APTTA was enacted in 2010 and has since proven difficult to implement and impossible to enforce, due to three fundamental reasons. First, it was written and signed without serious consideration of international trade agreements and conventions, which eliminates the possibility of legal recourse. Second, policies and regulations introduced by Pakistan often override and supersede the commitments under APTTA. As an example, APTTA limits container scanning to 5 percent of traffic at the port of entry, while Pakistan's APTTA Rule 603 requires the scanning of all containers at the port before they can be allowed to transit to Afghanistan. And third, the agreement is complex, which makes it difficult for both countries to implement.
While the fundamental purpose of the bilateral agreement is to allow transit in trucks registered in either of the two countries, Pakistani and Afghan trucks are only allowed to reach the first urban center after crossing the border; they then have to transship their cargo to trucks registered in the country of transit. This rule opens drivers up to harassment and rent exploitation, which is common. Furthermore, border closures and arbitrary decisions by customs officials of both countries delay border traffic, leading to backlogs exceeding 1,000 trucks in any direction and an average of four days queuing before they can cross the border.
All of these factors affect the time and cost of trade transport, a cost that, in the case of agricultural products, is transferred to farmers, discouraging their investment in productivity- and quality-enhancing technologies.
AVC-HVC was recently tasked by USAID to provide technical support to the Ministry of Industries and Commerce and to the Office of the Presidential Envoy for Pakistan Affairs, to help revise the APTTA, following a three month-extension agreed by Afghanistan and Pakistan. The negotiations begin this month.
COVID-19 has certainly exacerbated an already flawed system which—in the absence of serious policy interventions—seriously harms the people of Afghanistan. Thus, the months ahead will be crucial for ensuring that the new version of the bilateral trade and transit agreement is implementable, enforceable, and aligned with international trade agreements and conventions. If this is achieved, it will reduce the uncertainty that prevents entrepreneurs from investing in agriculture and limits the ability of rural men and women to participate in and benefit from economic development.
A revised APTTA that gives Afghanistan free, undisturbed, and uninterrupted transit through Pakistan has the potential to become a game changer for the country, resulting in rapid economic growth, the advance of licit agriculture, and greater prosperity, with direct effect on the prospects for peace and stability. A bad deal would most certainly be a missed opportunity, limiting the prospects for Afghans to climb out of poverty, enjoy the fruits of economic growth, and achieve peace.
Juan Estrada-Valle leads the AVC-HVC project in Afghanistan.