Data Makes a Difference: How We Are Tackling the Next Pandemic
Many scientists and academics are warning that the next pandemic is right in front of us. Antimicrobial resistance (AMR), or bacteria developing resistance to drugs, has been growing in recent years, primarily due to overuse of antibiotics.
Studies of this "silent pandemic" predict that by 2050, the world will suffer up to 10 million deaths a year and have lost $100 trillion in economic activity if current rates of AMR hold steady.
Having good AMR data is critical to averting such a scenario. That's why UK aid's Fleming Fund is supporting AMR surveillance systems around the world. Just as surveillance and data were critical to addressing the COVID-19 and Ebola crises, AMR data is required to understand how resistance develops, how it spreads, and how we can stop it. DAI is supporting better surveillance systems in Nigeria, Pakistan, Indonesia, and Bangladesh by helping laboratories and governments produce better data and share it more effectively.
Assuring the Quality of Lab Data
Ayesha Zaman works as a scientist in the Pakistan National Institute of Health's (NIH) microbiology laboratory. In 2016, she and her colleagues started the country's external quality assurance scheme, which ensures that scientists process lab samples and record subsequent data correctly. The NIH acts as the country's reference lab and external quality assurance provider, meaning it checks whether tests run in other labs (mainly in hospitals) are conducted correctly. These checks are vital because incorrect testing can lead to incorrect patient care and treatment.
DAI worked with Zaman and her colleagues to enhance this quality assurance program, find the gaps in data collection and reporting, and improve systems to contribute to a richer, more holistic AMR data set. The resulting improvements to the program, plus additional support from DAI, have enabled the NIH to apply for International Standards Organisation accreditation of its quality assurance program, globally validating its systems, tests, and data.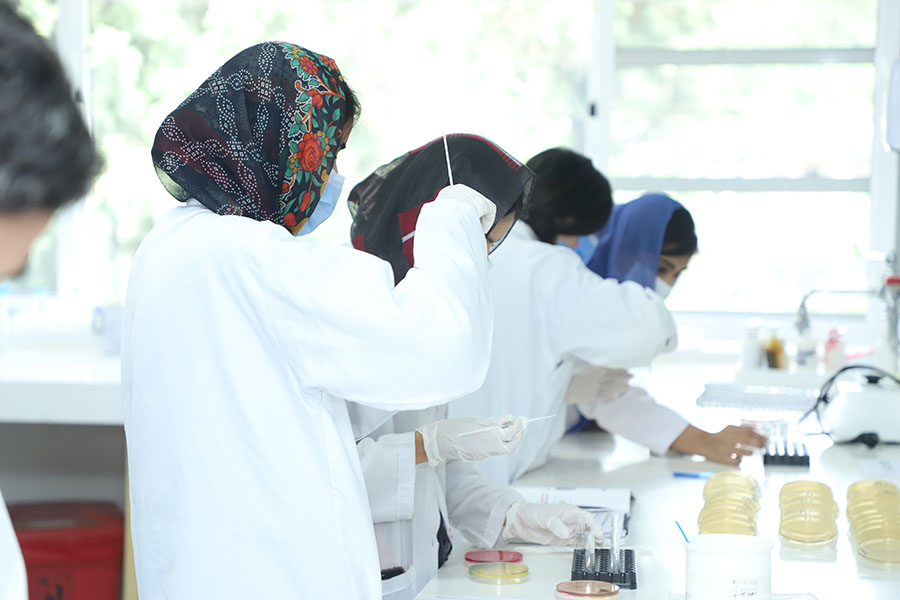 Laboratory scientists at Pakistan's National Institute of Health test bacterial samples. Photo: Fleming Fund Pakistan.
Better Data through Sequencing
In Indonesia, DAI's team has been working with the government to improve the use of whole genome sequencing for AMR purposes. Genome sequences offer a window into the bacteria's resistance "story," helping scientists understand the spread of resistance and predict how resistance might develop. These predictions are critical to managing current therapeutics and optimizing and developing new approaches to contain AMR, while treating patients and animals effectively.
Through its work with the Fleming Fund, DAI has helped policymakers understand the importance of whole genome sequencing and how this data can be used to improve AMR surveillance and research. The team is working with the national government and a commercial sequencing service to strengthen technical capabilities and improve the quality, accessibility, and cost-effectiveness of sequencing for AMR in Indonesia. And they have been building awareness of whole genome sequencing in Indonesia by coordinating with stakeholders, speaking at government events, and providing technical inputs and direction across sectors.
"Whole genome sequencing can improve our understanding of the evolution, relatedness, dynamics, and ecology of bacteria," said DAI's Team Lead in Indonesia, Tom Weaver. "It will help us understand how resistance emerges, how it is spread, and how resistance might be better contained. It can improve how we determine and deliver treatment and enact preventative measures, including national and local biosecurity. This information is needed to design the optimal policies, regulations, and incentive structures to change behavior among clinicians, veterinarians, producers, and the general public without jeopardizing public health and the economy at large."
Data Sharing Goes Digital
In Nigeria, the team has been working with the government to improve data sharing. National surveillance systems are typically formed by a collection of hospital-based medical labs and national reference laboratories, such as Nigeria's National Centre for Disease Control and the National Veterinary Research Institute. Data across all these laboratories are then captured in national databases and integrated with information from public veterinary or environmental labs to highlight resistance patterns between species. None of this is possible, however, without data digitization and strong, interoperable systems—both of which are challenges in Nigeria. DAI Team Leader Blessing Stephen says laboratories don't have a common way of reporting data and many labs still use paper-based reporting systems.
To tackle these problems, DAI has provided several labs with data entry training, computers, and internet connections to support data digitization. DAI is also supporting the National Antimicrobial Resistance Coordination Committee to implement a national AMR information management system. The system, which will go live by the end of the year, will enable labs across Nigeria to report into a single database.
Stephen says this tool bridges data gaps, provides interoperability and will equip labs to better inform decision-makers seeking to analyze national trends and develop regulation. The new system will also enable more labs to report into the World Health Organization's Global AMR surveillance system (GLASS), which gathers and interprets AMR data from around the world to identify resistance patterns and address needs.
Better data and strong surveillance systems are critical to tackling AMR. Thanks to the Fleming Fund, DAI has been able to support these countries to improve AMR data quality, data sharing, and decision making.
Megan Howe is DAI's Global Health Communications Specialist.