World Bank Project Aims to Rebuild Gaza Solar Facility in Wake of Conflict
In the course of the latest conflict between Israel and Palestinian factions in Gaza, one of the Gaza Strip's brightest beacons of promise was almost extinguished. The $11.2 million GIE Solar Energy Project—funded by the World Bank Group and financed through the Palestinian Ministry of Finance's Finance for Jobs (F4J) program—lost approximately 5,000 of its 21,000 solar panels to Israeli bombing and suffered damage estimated at up to $5 million. But the F4J team remains committed to supporting economic resilience in Palestine.
The PRICO Operation and Maintenance (PRICO O&M) GIE Solar Gaza Project was the largest solar array in the West Bank and Gaza and the only privately financed infrastructure project in Gaza in the past decade. It was financed through a grant from F4J, a loan from the International Finance Corporation, and political risk insurance from the Multilateral Investment Guarantee Agency (MIGA).
The project was honored in 2019 for adopting a collaborative approach and overcoming risks presented by Gaza's legal and operating environment. And by the spring of 2021, Solar Power Project was ready to announce commercial operations supplying the surrounding Gaza Industrial Estate. But then, between May 10 and 21, the conflict intervened.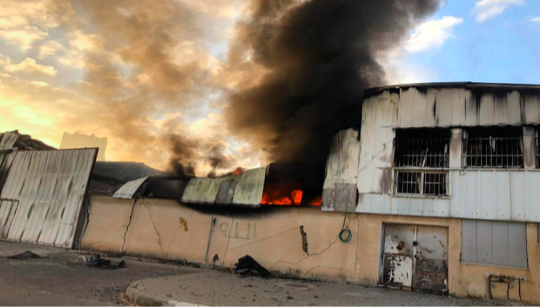 Photo: F4J.
Solar-generated electricity produced by PRICO O&M was enough to power the 53 factories and warehouses that comprise the industrial estate, which—like most of the West Bank and Gaza—relied heavily on Israeli imports of electricity. Chronic electricity shortages have traditionally caused Gaza factories to shut down operations, scale back output, or incur substantial additional expenses in operating private generators. Electricity generated by PRICO O&M was projected to supply all of the power to the 50-hectare industrial park, enabling expanded production and supporting approximately 600 new jobs.
In addition to knocking out solar panels, the bombardment damaged inverters, cables, electrical panels, mounting systems, and meters installed on 19 industrial hangars, according to an initial assessment, plus roughly $500,000 worth of spare parts for the solar project. The medium voltage connection lines may also be damaged.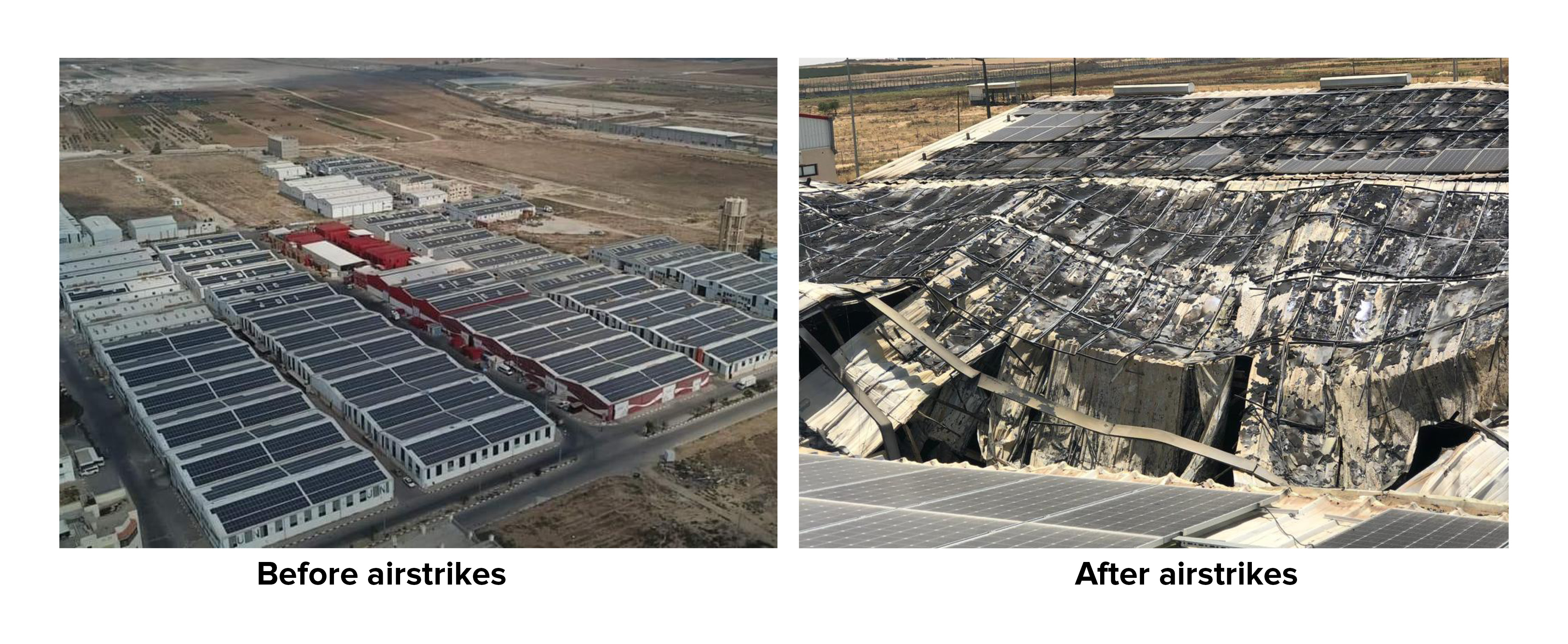 Photo: F4J.
But all is not lost. The GIE Solar Energy Project's MIGA insurance is expected to cover losses resulting from war and civil disturbance, which means it will be reimbursed for the lost solar panels—although not the cost of rebuilding the hangars on which the panels are installed, nor the cost of rehabilitating the client businesses.
F4J is resolved to help the Gaza Industrial Estate developer and tenants recover quickly. In partnership with the World Bank Group and Palestinian Ministry of Finance, F4J has turned its attention to channeling resources into the Gaza Recovery and Reconstruction Program. This program is still being fleshed out, but it envisages using F4J resources to support the recovery and reconstruction of damaged businesses; replace damaged raw materials, machines, and equipment; and cover temporary rent for businesses and salaries for their employees.
"While nothing can fully replace the losses these companies have incurred, the Ministry of Finance through the F4J team and our partners will continue to look for solutions to get Gaza back to business and to recover as quickly as possible," said Laila Isbaih, Director General of International Relations and Projects at the Ministry of Finance.
Mazen Asad is a Project Manager on F4J.